Some Landscapes Capture Your Heart and Soul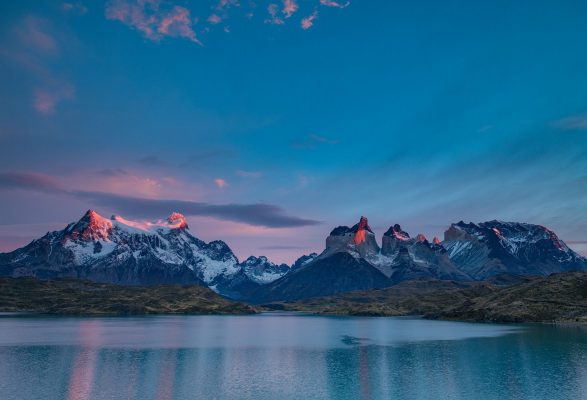 "Is that what I think it is?" I ask my wife, Cree, as we paddle up to the shell midden in the remote Isla Chonos of southern Chile.
"No way! How could it survive all these years just laying on the beach?" I ponder as we get closer to shore.
We had been paddling for nearly two months exploring these remote fjords. I have slowly become amazed, awed and obsessed by this landscape.  We endured howling katabatic winds, sat under massive rhubarb-like Nalca plants during torrential downpours, and watched penguins swim past as we practiced rolling our sea kayaks.
Cree paddles up and jumps out of her kayak.  She picks up an eight inch Alacalufe spear point in perfect condition.  The Alacalufe were the indigenous people who lived in these remote fjords for hundreds of years before contact with European explorers.  After posing for a picture, we leave the spear point on the beach.  We don't want to taint this special moment.
Twenty five years later I am still exploring and photographing Patagonia.  I've traveled the length of Chile and Argentina, meeting gauchos, exploring remote glacial valleys and photographing as much of this spectacular landscape as I can.  On this trip I am leading a group of photographers to a number of my favorite areas.  And today we are entering Torres Del Paine National Park, a crown jewel in the Chilean park system.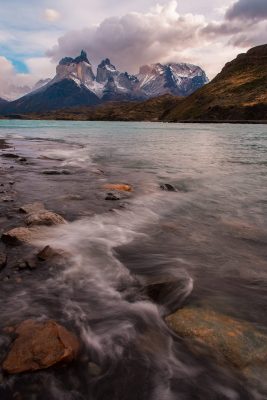 What makes Torres Del Paine so special? Imagine turquoise lakes with jagged mountains and spires rising eight thousand feet straight into saucer-shaped lenticular clouds.  Geologic forces forgot to produce foothills in this mountain range.  Tawny-colored guanacos graze peacefully in the meadows, while one of the biggest birds in the world, the Andean Condor, soars overhead. Rhea, ostrich-like birds, run along the streambeds.  Photographic inspiration comes in so many forms here it is overwhelming.
I never travel to Patagonia without two of my favorite Singh-Ray filters; the Five-stop Mor-Slo ND Filter and the three-stop Galen Rowell Soft-edge Graduated ND Filter.  Landscape photography in Patagonia is very fluid.  High winds create dramatic clouds and challenging contrast for photography, while crashing waves and waterfalls often prompt long shutter speeds to create moody, ethereal images.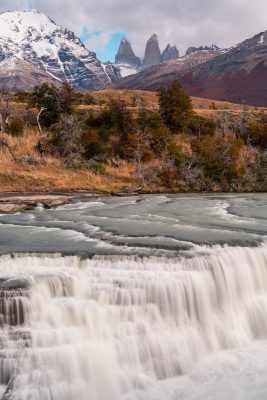 We are staying at Hosteria Pehoe, a nice hotel located on an island on Lago Pehoe.  This hotel has to rank as one of the most scenic in the world. On the other end of Lago Pehoe the jagged Cuernos Del Paine pierce the skyline creating a stunning photographic backdrop.
The winds are howling our first morning on the island, which means big waves crashing against the beach. I grab my five-stop ND filter and head to a location I scouted earlier.  I have frequently stayed at this hotel in the past, but I am always amazed to find new compositions.  I set up in an area under the boardwalk leading to the hotel.  A nice line of colors rocks breaks the waves as they hit the shore, and my ND filter allows me to shoot at the right shutter speed for the best effect.  I don't want the waves to be featureless white, but instead maintain a little texture and line for more tension.  1/3 of a second is the right shutter speed for this image.
Midweek we head to the east end of the park to photograph Cascada del Rio Paine, an incredibly scenic waterfall below the other iconic feature of this park, Las Torres Del Paine. These orange spires rise straight up in a mountain valley behind the waterfall, creating a sublime scene. Once again I turn to my five stop ND filter to get the right look of the waterfall.  One thing I often do with my waterfall shots is bracket my shutter speeds. This way I know I will have just the right amount of motion in the water, and have some variations to use. The Torres are out today, and red Lenga trees add a nice splash of color to the mountains.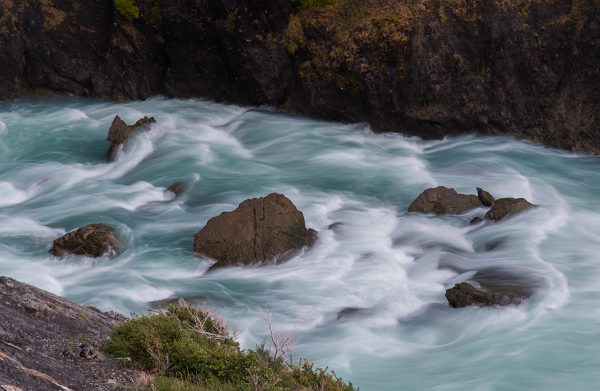 Our final morning of shooting we are perched on top of the island.  The winds have calmed, and pink light is streaking through a hole in the clouds to the east.  Cerro Paine and the Cuernos are starting to light up, but the foreground and Laho Pehoe are still in deep shade.  To solve this contrast issue, I use my three-stop Galen Rowell Graduated ND Filter to bring the highlights down on the peaks.  I've always preferred to use a graduated ND filter in the field versus trying to accomplish the same task in post-production.  So many of the elements in this scene are moving that an HDR image would have ghosting issues.  But most important for me is seeing what I am producing in the field, not later in the computer.  The light only lasts a few minutes, and soon the pink hues fade.  Nothing ever stays still in Patagonia.  We have all heard the cliché 'give the weather a few minutes, it will change' — I'm convinced Patagonia is where this adage originated.
Every photographer should seek out an environment that captivates their imagination and inspires their creativity.  For me, finding a spear point on a faraway beach sealed my fixation with Patagonia. I'll return to this magical landscape for the rest of my life.  Find your own inspirational landscape, and let your creativity flourish!
To learn more about Tom Bol, and view more of his breathtaking photographs, please visit: www.tombolphoto.com