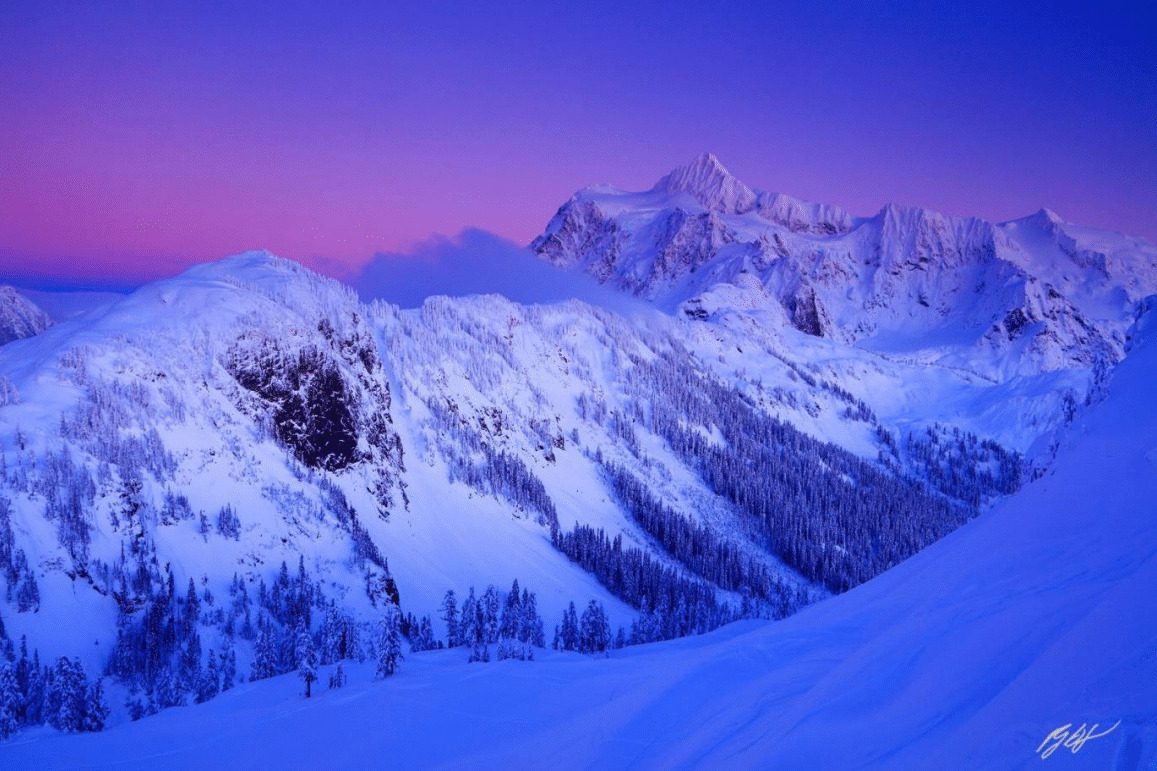 The North Cascades in Washington State are one of the most amazing places to hike and photograph anywhere in the country, and in my opinion would rival anywhere in the world. The area is super vast with so many different opportunities, it would take years with a lot of exploring to see it all. But in winter, much of the North Cascades are buried under snow offering little access to this immense wilderness. But this is not the case for the Mt Baker Highway, Highway 542. The end of the Mt Baker highway is home to some of the greatest winter scenery anyone could imagine, and because the Mt Baker Ski Resort is at the end of this highway, the road is open in the winter, offering access to not only skiing and snowboarding, but also epic snowshoeing and cross-country skiing. This makes for a fantastic location for photographers to visit, explore, and capture some of the best winter images you can capture anywhere. This area offers jaw-dropping views of Mt Shuks an and Mt Baker along with many other mountain peaks in the North Cascades. So how do we best visit this area for photography in winter? Let's dig in and see.
There is lodging along the Mt Baker Highway you would pass on the way up the mountain, but this will add about an hour's drive to get to the high country. This would be an hour up for sunrise, and another hour down after sunset. For me this would work but is not ideal as I always try to be as close to the location as possible. Fortunately, there are two ways to be much closer to the photography action. You can overnight park and camp in your vehicle or rig in the overnight parking area with an overnight permit. I camp in Gracie, my Ford Transit Adventure Van. Or, if you have the ability, you can snow shoe backpack up to Artist Point and dig your tent in for an overnight stay. I have done both and have captured many amazing images from both experiences.
If you choose to do the backpack, you will be in position to basically shoot sunrise and sunset right from your tent. The views in the winter from the top of Artist Point and Artist Ridge are absolutely glorious! But it will be very cold and challenging experience. I suggest that you have the skills to handle winter camping and backpacking already as I do not think this is the place to learn these skills for your first trip. The snowshoe is not terribly long at about 2.5 miles, but has a decent amount of elevation gain. This in itself may not be the biggest issue. But being exposed on an open mountain ridge overnight at almost 5200 feet, might just be. Winds get funneled right through and over this ridge and can drop the temperature by 20 degrees or more, so having knowledge and skills will make the experience much more enjoyable. To start with having excellent winter gear is a must. A four-season tent and four-season sleeping bag to survive the cold is required, and having an excellent sleeping pad to keep you off the snow and ice is a must. Having many layers of high-performance clothing to remove as you work your way up the hill to the top, then put back on once you are there is essential. If you do have the right winter gear, and physical skills and mental fortitude, then the experience can be outstanding and is quite magical. When I did it, I had planned for a three nighter, but had quite enough after two, as the wind chill at night was below zero! Good news is you can snowshoe down to the Mt Baker Ski Resort Lodge during the day and warm up and grab some food. I really enjoyed a pizza and salad, before returning to my high-country winter camp.
If winter backpacking is not your thing, but you have a vehicle you can camp in, then parking and staying overnight up on the mountain might just be the way to go. This will put you very close to the action, and be easier for most photographers to handle. You will have to get an overnight camping permit to do it, which you can purchase online. I now prefer this method for this location, but I did not always have a van to sleep in.
It pays to show up very early in the morning to beat the ski resort rush, so you can get a good parking spot for your vehicle campsite. If you arrive after 8am the parking lot will be packed with skiers and snowboarders, meaning you will have to park far away from the camping zone and move your rig later, which after night hiking back down from Artist Ridge after sunset and star photos, is not ideal.
As for my last adventure here, I got parked in my campsite parking spot and got my van set up for the night. We were early so we had plenty of time to scout around and check out the lower elevation shots with Mt Shuksan towering over a snow buried Picture Lake. This in itself would be a great location, but would limit yourself to just the one shot. We decided getting to the top of the ridge was what we were after. So, it was back to the rigs to eat a big meal, and pack up the packs to make the snow shoe up to the ridge. After some discussion, we put a couple of tents on the packs to use as subject manner incase conditions were right to stay out for star photos. The great thing about winter shooting, is how early the sunset is, meaning you do not have to stay out all night to shoot night images.
Once we were packed up, the snowshoes went on, and we hoisted the packs, and started making our way. We worked our way up past the ski resort and picked up the trail along one of the slopes. The going was a slow uphill on snowshoes with all the weight we were carrying, but it was a beautiful day and not too cold with highs in the upper twenties. Once we started gaining elevation, we started to hike into patchy fog. I crested a hill and immediately started hiking faster towards a set of frozen alpine trees that had some crazy stuff going on. I dropped my pack and got the camera on the tripod and hustled into position. Once I was set up, I started capturing some of the most amazing tree images I had ever seen, as the sun was burning though the fog and blasting right through the trees with incredible array of sunrays.
It did not last long, but I got quite a few shots off while I moved around a bit to keep putting the sun star in the right position in the trees. The scene was absolutely magical! After it was over, I reviewed my images in the back of the camera and was awestruck at what I had just captured. Certainly, some of the coolest light rays I have ever seen, or photographed!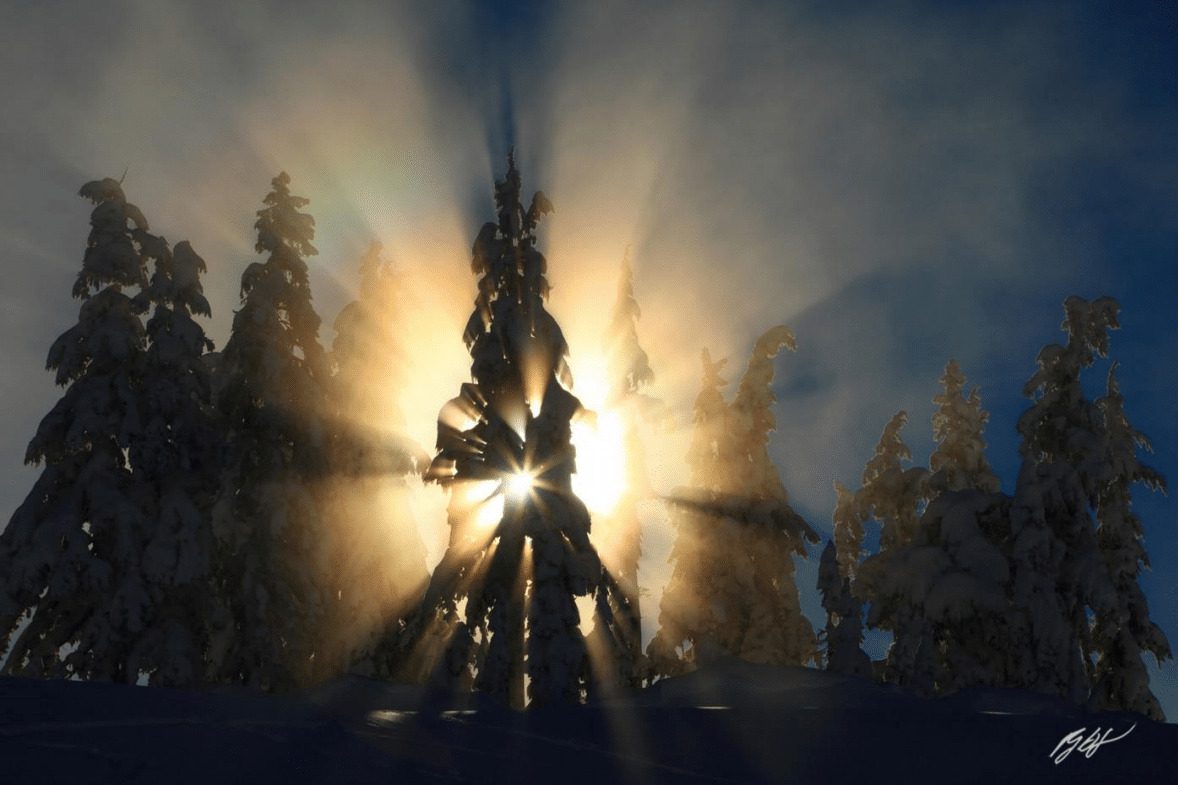 After we got over the rush of that, we got the pack back on and continued the snowshoe up the mountain. Even though we got an early start, the photos we were shooting on the way up had greatly slowed out progress, and we had to pick up the pace. We crested another hill and Mt Shuksan came into full view. Some fog was nestled in front of the mountain and the light was getting right, time to again make a move into position to get a shot. A little more elevation and I snowshoed right into a track free area, these are hard to come by! I dropped the pack again and got the camera out and started shooting. The color shots of Mt Shuksan were good with the mountain floating in the fog scene, but it was still to early for any color, so I switched over to black and white and popped off a couple of shots. Bam! Nailed That! I put that right in the Bank! The black and white was just the thing, and gave the scene such a peaceful yet rugged and deep feeling. Those turned out to be some of my favorite black and white shots of all times!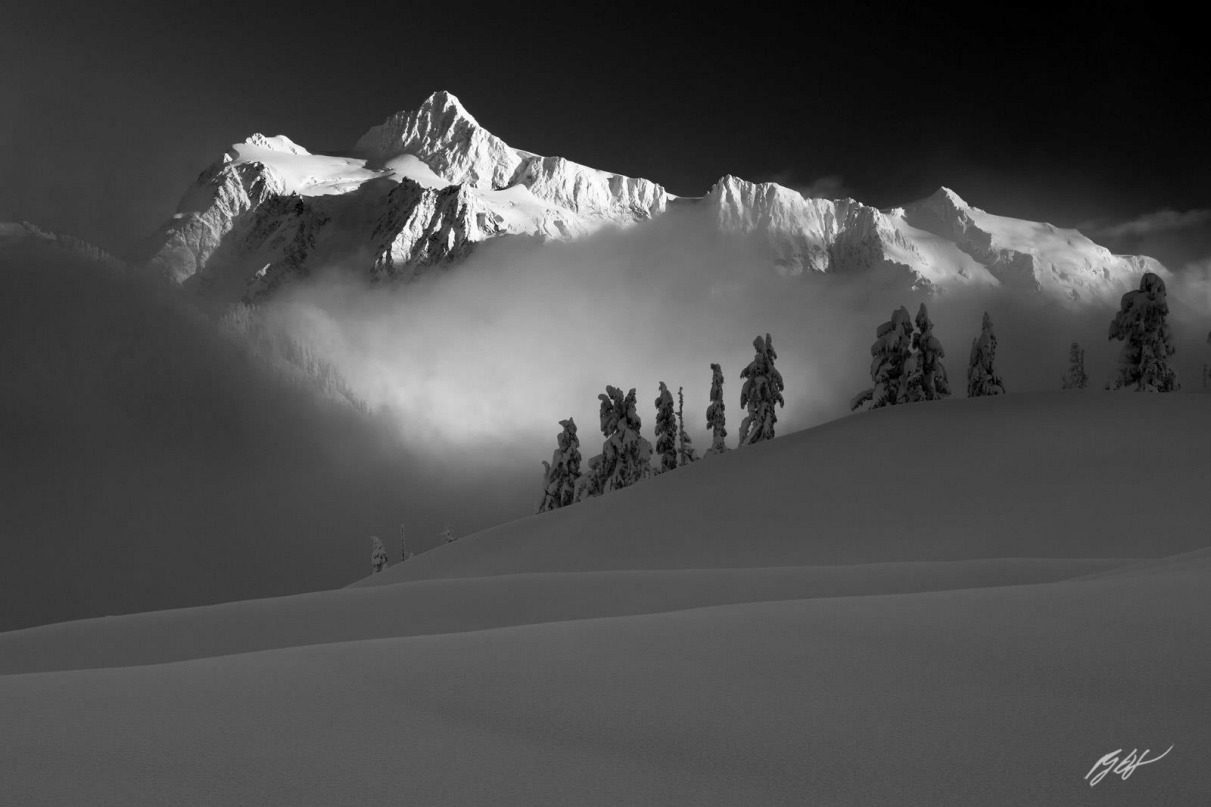 With backpacks back on and heading back towards the ridge top, I realized we were now behind schedule and were not going to make it to the ridge in time for sunset. We were so close, but I liked the slope we were on and decided this would be the spot for sunset, the cameras came out and I started working on my compositions. Soon color started to happen and we shot through sunset and right into alpenglow. And that is when the magic started happening. Strong colors started glowing above the mountains and as the blue of night started pushing the pink of alpenglow up, I started capturing gallery worthy shots. First of Mt Shuksan to the West, then out to the Cascades to the North. What a glorious site. The Alpenglow seemed to last for ever so I just kept on shooting. The photography was fantastic, but the temperatures immediately started to drop.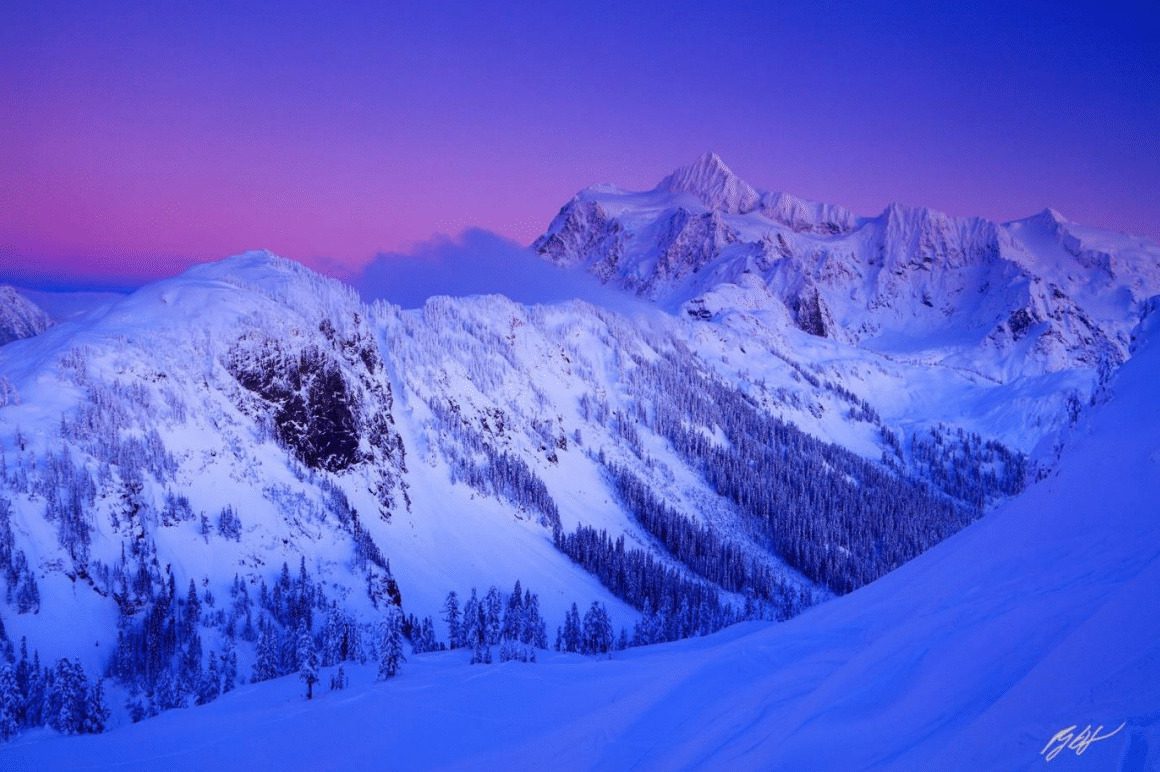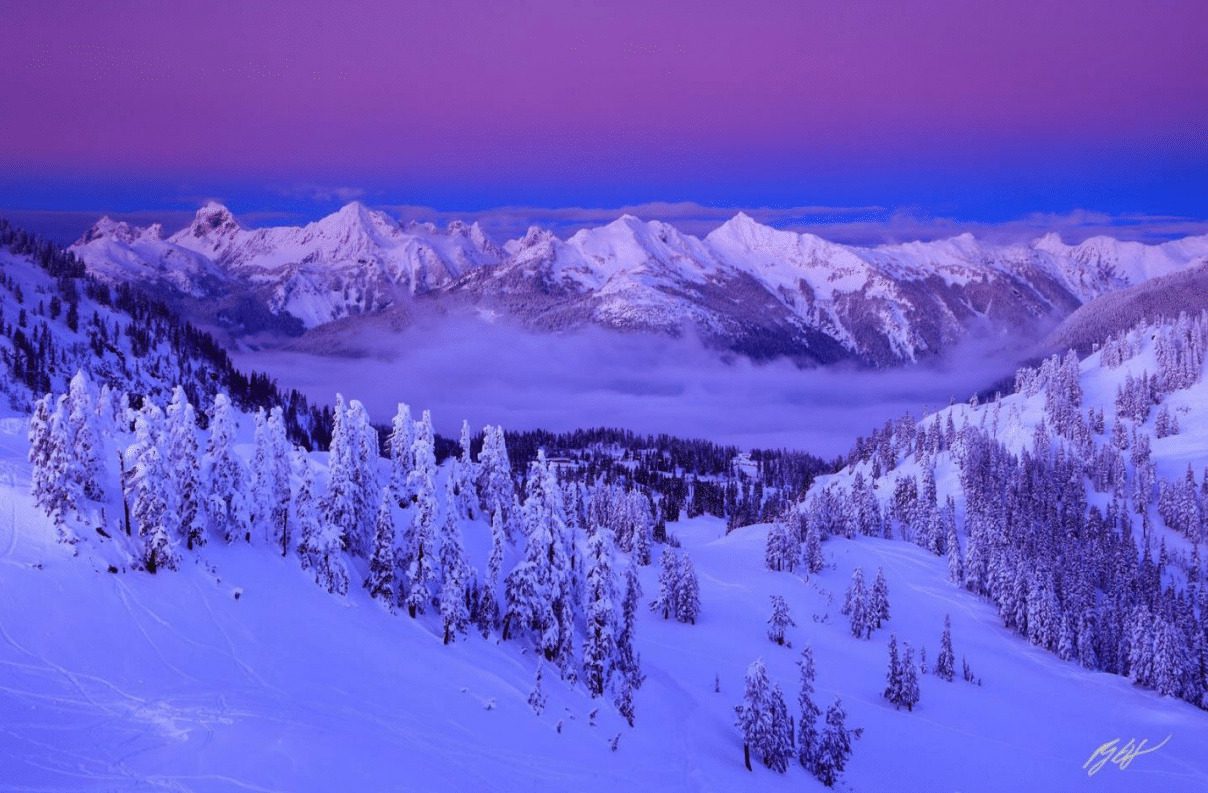 With sunset over, the cold started rushing in. Time to put the cameras away, put on some layers and snowshoe our way up to the Artist Ridge and scout around for sunrise locations. The trick to shooting in the extreme cold is just to keep moving, and so we did. Once on the ridge the majesty of Mt Baker was on full display. You could see the light would not have been right at sunset, but it sure would beat sunrise, so we scouted for that perfect location, that we would return to in the morning. After a full scout on the ridge, it was now fully dark and it was time to find a spot to set up the tents for the star photo. Then the moon popped up. Well, that changed things. We decided to snowshoe back down some and get Mt Shuksan in the right position with the quarter moon behind us. As we made our way down to a lower elevation the moon moved into the correct position. We set up the tents and it took a few test shots before we had the lighting and tent set up just right. Then we locked the camera open for a 30-minute exposure. We were so cold from setting up the tents, that we had to just start snowshoeing around to warm back up. We made a nice half mile loop that kept bringing back to check on our cameras. Once we ended the exposure, we had to wait another 30 minutes for the long exposure noise reduction to do its thing, so back to our loop to stay warm. Luckily the winter views in the moonlight were incredible. Once the photos popped up, we realized we had made a couple of errors and needed todo it again! What, so cold! But we locked the cameras opened again in bulb, this time for 45minutes and started doing the loop again. Now the temp was down in the teens, so there was no standing around, we had to keep on moving. Once we ended the exposure, we knew we could not stay out to do it again do it again, so while the images were processing, we broke down the tents, packed up the cameras and started out way down, warming up and enjoying the scenery the entire way. I kept an eye on the time, and as soon as forty-five minutes was up, I dropped my pack and pulled out the camera to see the results of my star trail image.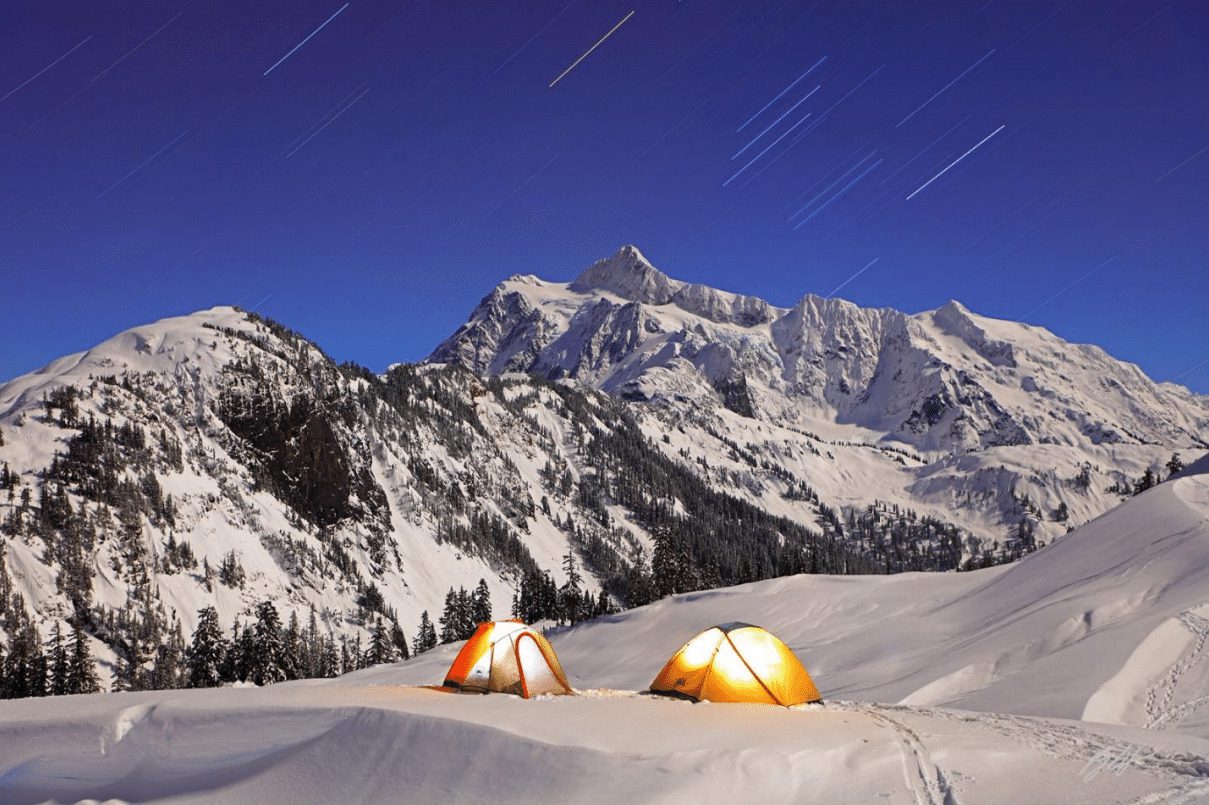 Nailed it! Oh boy, I was so relieved. I had dreamed of getting a shot like that with Mt Shuksan for many years, and I finally had it! We made it back to our rigs and it felt like it was after midnight, but no, it was only 10pm, time to crawl in and get some well-earned sleep.
We were up well before sun to make the two-and-a-half-mile snowshoe back up to Artist Ridge for sunrise. You could see some clouds had rolled in, and we were very hopeful. It was a much faster hike up this time with out the extra weight of the tents, and we made pretty good time. Luckily, we had already scouted out the area, so we both had picked out our spots. This would be my fourth attempt for a winter sunrise from here, and it had always been clear, so I never have captured any Gallery Shots.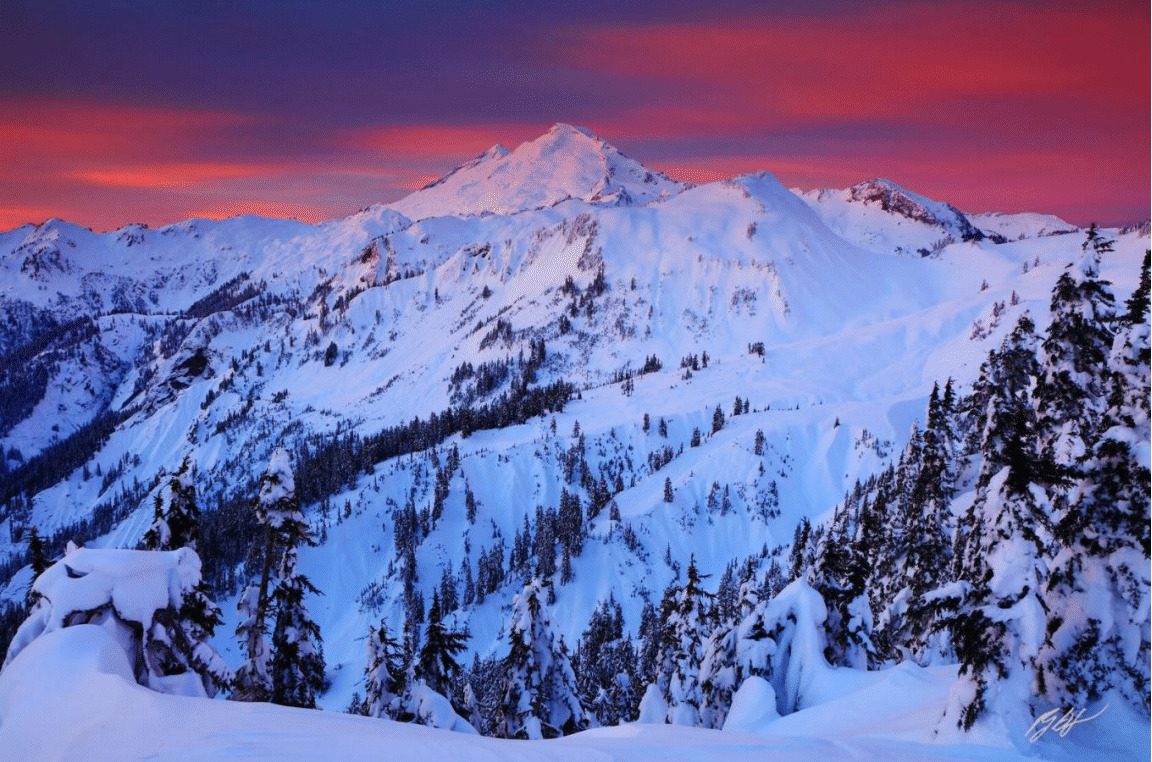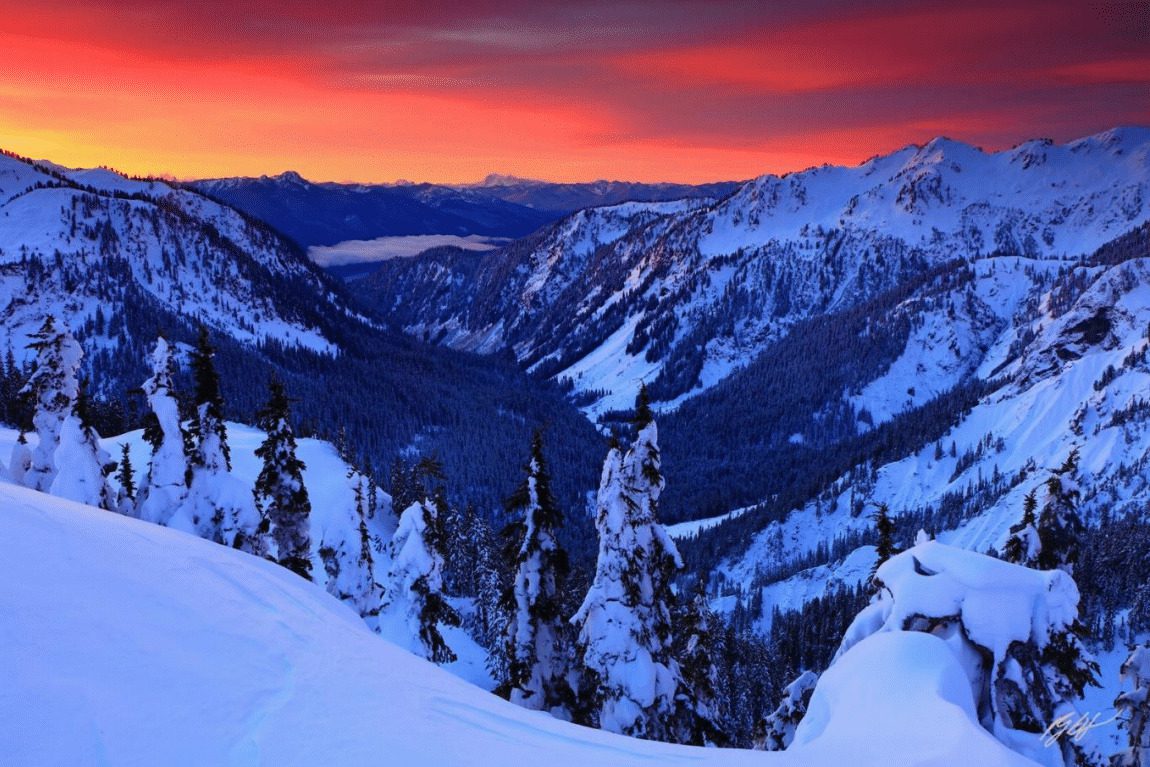 Well, that was about to change as the clouds started catching light and we were treated to a mind-blowing sunrise with Mt Baker. I shot and shot and shot, then moved my composition and nailed an incredible image over a valley floor far below, then it was right back to Mt Baker. The sunrise seemed to last forever and at the end I zoomed in and got one more shot of Baker. We decided to snowshoe Artist Ridge one more time to see the views while the sun was up, and I grabbed my final shot of a group of frozen alpine trees.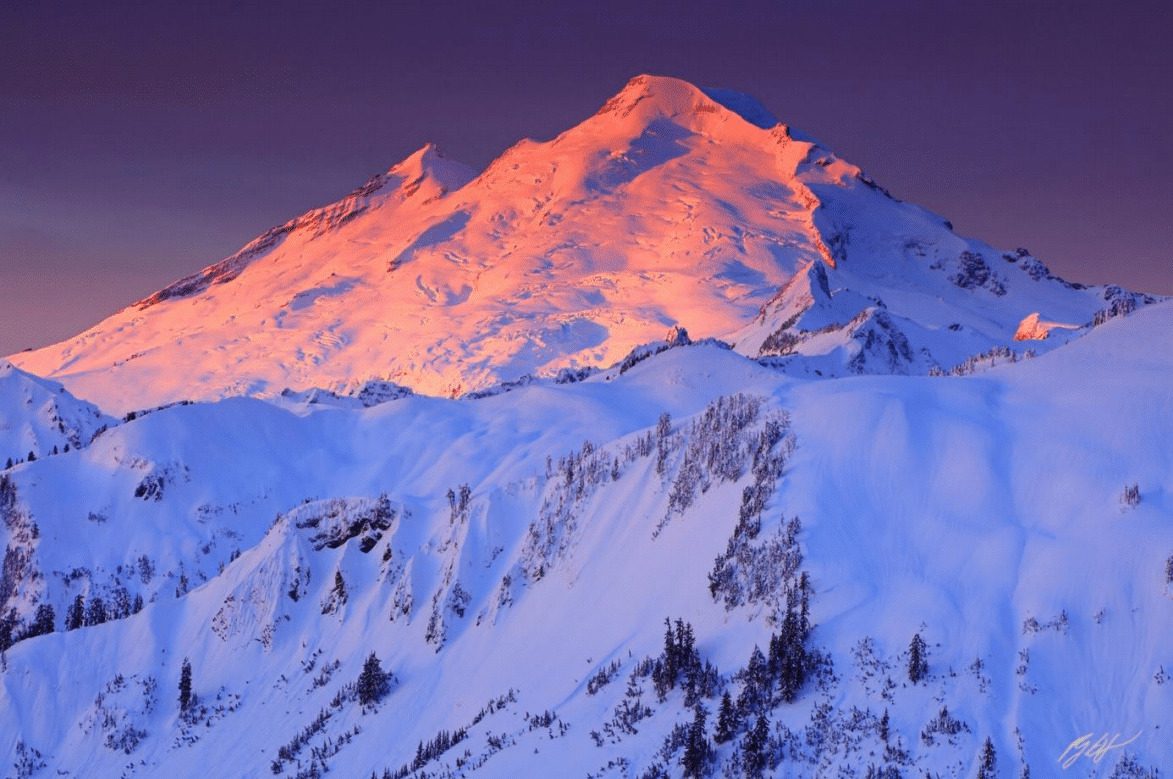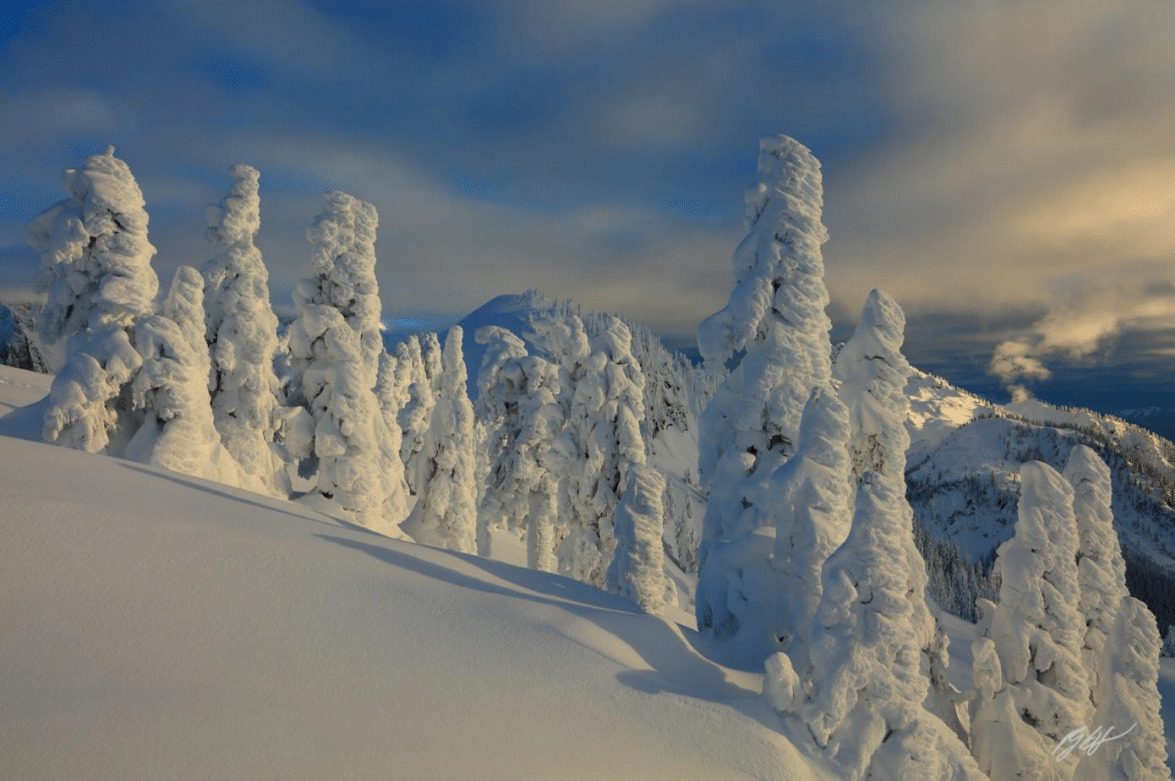 Now that the sun was up the temperature lifted back into the twenties which was a relief as we snowshoed out way back down, just as the ski resort was starting to wake up. The views were fantastic all the way back down to our rigs. The trip was over, but what a night we had. We shot an incredible afternoon light right into sunset, stayed out for star photos, and were blessed with a sunrise to remember for a lifetime. Even though winter mountain shooting is so much more difficult than other times of year, it is very rewarding. With proper planning and preparation, a photographer can do excellent mountain shooting in the winter. Another trip was "In the Bank", so until next time…Happy shooting everyone! Randall J Hodges.
Randalls Gear for this shoot: Cannon 5DSR with Canon 24-105 Mark 2 lens. Gitzo Traveler Tripod with Gitzo Traveler Ball Head. Singh-Ray Light Bright Warming Polarizer during the day, and Singh-Ray Galen Rowell Graduated Spit Neutral Density Filters to balance light at sunrise and sunset in ½, 1, 2, 3, and 4stops in hard graduation. Hoodman Loop for viewing the back of the screen. Lots of lens cloths card space and extra batteries.
For more information on Randall's work, please visit his website at www.randalljhodges.com.