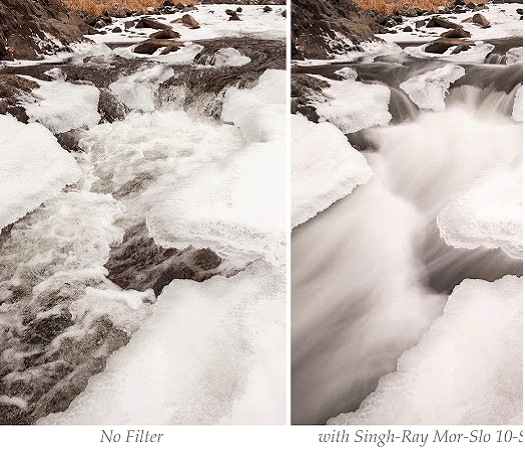 There have been so many times when I've found myself at an impressive river scene or rocky coast line with the mid-day sun beaming straight down. Very bright light creates a challenge for me since I like to shoot rivers, streams, water falls, and seashore surf at very slow shutter speeds to get that soft-silky look to the moving water.
In such situations, I like to expose my image for 10 seconds or longer. But even if I set my camera for my smallest lens aperture and lowest ISO — and use my polarizer to add one more f-stop of density– I still can't come up with bright-daylight shutter speeds much slower than 1 second. That's why I'm so excited to have the new ring-mounted 10-Stop Mor-Slo ND ready to quickly transform the brightest daylight. If you're wondering how how dark 10 f-stops of density is, think pitch blank. The new 10-Stop Mor-Slo allows me to work with shutter speeds of 30 seconds or longer in the middle of the day. The effects I get with this filter are stunning. Crashing surf transforms into misty white steam and white water cascades and streams become smooth and fluid.
The image below shows one of my favorite attractions of Yellowstone Park — Firehole Falls. Although it's located deep in Firehole Canyon, this scene can be easily photographed from the road. When I acquired my new Mor-Slo, this is one the first images I went after. I arrived in the canyon under overcast skies, perfect for shooting waterfalls — sunny days produce too much contrast at this location.
I used a tripod-mounted Nikon D4 and 24-120mm lens for this shot. Before screwing the Mor-Slo on the lens, I first composed the image and used autofocus to get sharp focus. Then I turned the autofocus off so the camera wouldn't be searching with the filter attached. As soon as I attached my Mor-Slo filter, the viewfinder goes dark so I needed to have the focus set and my viewfinder covered to avoid any effect from a light leak. I use aperture priority in manual mode to reset my exposure. After reviewing my initial image, I decided to add more light to the shot.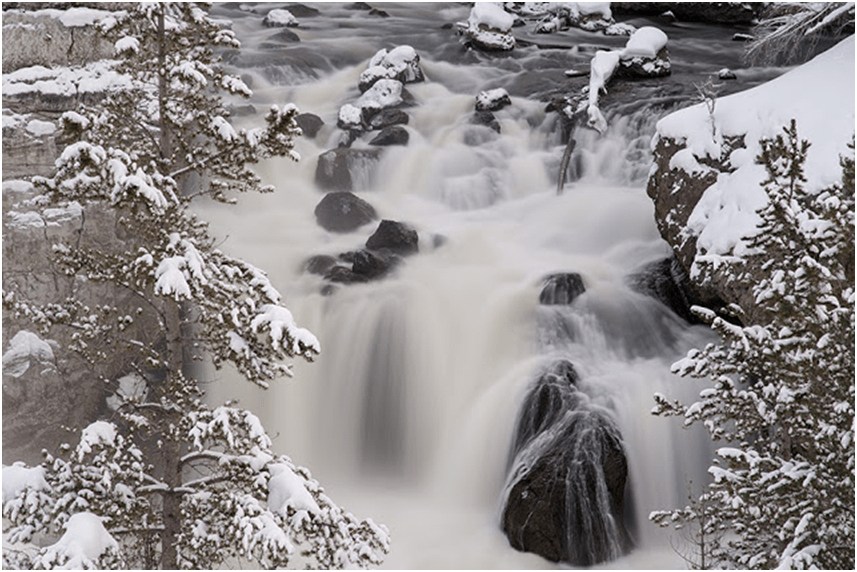 My first shot (not shown here) was 4 seconds at f8 at ISO 200. I was happy with that image, but wanted to try getting a little more definition in the water. Since the Mor-Slo is fixed at minus 10 stops, I simply changed my aperture to f5.6 and dialed my ISO up  to 400. This gave me a shutter speed of .8 seconds, which 'froze' the waterfall a bit more and gave it defined streaks of water. This final image shows how the faster shutter speed helped make the water more streaked — nice and easy.
How is this filter different from the Vari-ND? Think of the Mor-Slo as simple, as in screw it on the front of your lens and start shooting simple. I love my Vari-ND.  I use it a lot, especially when I want to keep a fixed aperture setting. I adjust the amount of light in the image using the filter, not my camera settings. But the beauty of the Mor-Slo is that I can just attach it to my lens and forget it is there. Instead of adjusting the filter to change the amount of light, I can use my camera settings — my shutter speed and ISO — in place of the lens aperture.
Tom is traveling almost non-stop, with lots of exciting workshops coming up this year, including an epic Icelandic adventure! And be sure to check out his latest book, Adventure Sports Photography; Creating Dramatic Images in Wild Places.