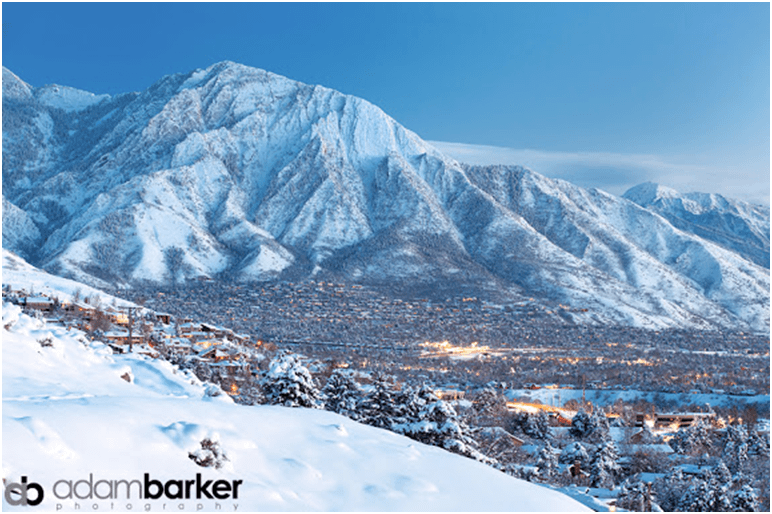 At its very root, photography is a beautifully simple way for us to share our unique vision with the world. It's an extension of our eyes and creative minds. Yet sometimes we lose sight of all this amidst the incessant buzz of tech talk, one-upsmanship and armchair quarterbacking. Let us never forget that photography is a creative process that can and should open people's eyes to new locations, new cultures, new experiences, and new ways of seeing this exciting world we live in.
This all came back to me a week ago or so as Salt Lake City was pounded with an intense winter storm. It's not uncommon for our mountains to receive many feet of snow from these storms. However, it is somewhat unusual for the Salt Lake Valley to receive several feet of fluff. After several days of huffing and puffing, the clouds parted to reveal a true winter wonderland. 'White' didn't even begin to describe it.
As my career and family life have progressed, I have learned to manage the panicked feelings that accompany an epic sunset or other unforgettable shooting opportunity that went unphotographed through my lens. You all know the feeling!
This evening, however, was not one to be overlooked.
I simply could not pass it up. It was a rare occurrence to see this much snow in the valley, and I knew the late light and twilight shooting would be one for the ages. The beauty of it all was simply that — the beauty of it all. I had no agenda, no client I was shooting for, no underlying pressure to produce anything for anyone other than myself.
It was an impossibly serene evening, accented by temperatures in the single digits. For the first time in a long time, I was actually wearing gloves to shoot, which is rare for me even in colder environments. Yet this evening it worked out perfectly, as I had no ND Grad filter to hold.
This twilight exposure is the simple result of measured timing, just the right tools and proper technique.
Timing: twilight is an ideal time to shoot winter scenics as the gorgeous hues in the sky (be they blue, orange, magenta, etc.) are reflected on the snow below. Exposures balance very easily with a bright, snowy foreground and dusk sky.
Tools: Canon 1DX, 70-200 2.8 IS II lens, Singh-Ray LB Warming Polarizer, Gitzo tripod. 'No Graduated ND, how was that possible?' you may ask. It was simply a matter of knowing how to get the job done with my polarizer.
Technique: Circular polarizers are most effective when used at a 90-degree angle to the sun. I knew this location would offer up a perfect angle toward Mt. Olympus of almost exactly 90 degrees to where the sun had just set. This meant I was able to further darken the sky — deepening the blues and making the peaks pop — and effectively balancing my foreground-to-sky exposure using only an LB Warming Polarizer instead of an ND Grad.
While this image certainly isn't one of the most unique photos ever captured, it holds a special place in my heart. If you've not had occasion to shoot solely for yourself lately — do yourself a huge favor and get out there!
You can track Adam's photo adventures by visiting his website and many social media outlets. You may also want to check out Adam's instructional DVD, Completing your Outdoor Photography with Landscape Filters, which is also available on his website.