Next Level Workshop instructors Darrell Moll and Rod Brown freely admit that landscape photography is a nice escape from the business of running their regular studios. "If the truth be known," says Darrell, "we would prefer to do nothing else but take pictures of the great American landscape and share our images and knowledge with others, but that may still be a few years down the road."
"There is no place I'd rather be in mid-April than in the Smoky Mountains," says Rod. "We're making preparations for this year's workshop and thought we'd share some of the images from the previous workshop. Last year, spring came about 3 weeks early to many parts of the country, so we missed the dogwoods in Tennessee. However the mossy rocks, the fog, the springtime streams, and the wildflowers were all there for us."
"There was one big difference this time," says Darrell. "We had another professional studio photographer in the group — as a student. Dan has been a friend of ours for more than twenty years, and his studio is only about 30 miles from mine. A few months prior, he told us he had seen what we have been doing with our landscape photography and he wanted to learn to do similar work. So Dan signed up for the workshop. He definitely came to learn. Before the workshop, he came to my studio a few times and I wrote down a small list of things he would need to get. Two items in particular were the Singh-Ray 2-stop soft-step Graduated ND filter and a Singh-Ray LB Warming Polarizer.
"Dan had been shooting in the studio for so long, he was concerned if he had the skills to shoot landscapes. At the workshop, as expected, during his first few hours in the field, Dan said he felt like a fish out of water. He had his camera set up for what he normally did when taking studio pictures of people — making changes was not something that came easy. However by the time we got to our third location, Rod and I both took notice of Dan's progress. All of a sudden he began to feel very comfortable with his new workflow. He had also told me a few weeks before the trip he might need help 'seeing' the pictures. It turned out that he absolutely did not need help seeing anything.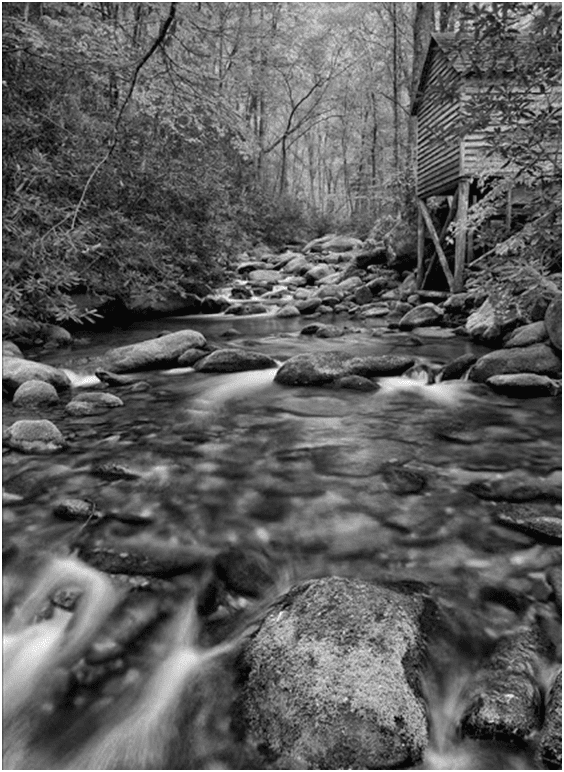 "Near the end of the first day," continues Darrell, "we found ourselves photographing along the spectacular Roaring Fork motor trail. We stopped at the mill and Dan carefully worked his way onto the rocks in the stream. Getting down low to include the foreground elements, he rotated his new polarizer to reduce the glare from the wet rocks and rushing water, and used his new Singh-Ray ND Grad to balance the brighter sky with the foreground. That's when everything came together for our friend Dan. The right combination of tools, along with the proper shutter speed and depth of field allowed Dan to realize the image he'd envisioned."
"Day 2 was even better than Day 1 for all of us," continues Rod. "We had the perfect conditions for shooting waterfalls: light overcast weather with a sprinkling of sunshine now and then to keep everyone's interest piqued. A light rain the night before did a great job of soaking down the rocks for us. By now Dan was shooting these lovely water scenes as if he'd done it is whole life. I wandered over to him and observed what he was doing. Each time — like clockwork — doing exactly like we showed him the day before. What was really inspiring however was seeing what he was choosing to shoot and how original his captures were! Seeing that he was comfortable with the ND Grad/Polarizer combination, that's when I introduced Dan to the Singh-Ray Gold-N-Blue — I generally use it as a tool to add impact to scenes with drab lighting. Dan quickly took to rotating the filter and seeing the colors change so dramatically in the viewfinder. Playing with the filter's extreme effects, he took what he described as a 'super sexy blue' shot with the 'super-natural' blue tones the filter can create. It was a little too over the top… So, getting back to business, with a slight adjustment, Dan backed off the blue just a little bit and took this wonderful image. Sapphire Splendor was created, thanks to the Gold-N-Blue filter and Dan's keen eye."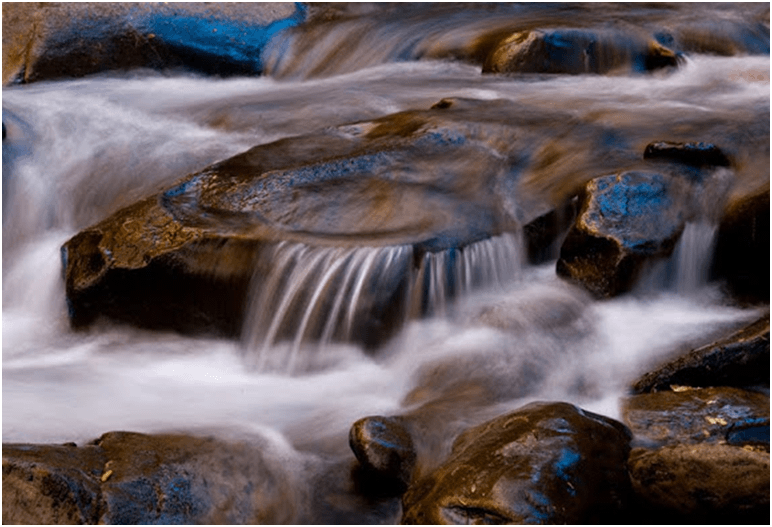 "Day 3 surpassed the first two days in many ways," notes Darrell. "We woke up to lots and lots of Smoky Mountain fog. These conditions stayed with us throughout the day and in the afternoon we found our way to the Tremont area for some more great water landscapes. Dan immediately saw what he was looking for and set out to get to his spot and get his images. He carefully went though his workflow, adjusted his LB Warming Polarizer and turned 'live view' on in his camera so he could place his ND Grad exactly where he needed it. The image, titled Spring Convergence, is what he called this great image that seems to go out to infinity.
"It turns out our good friend needed a lot less help than he thought. He is convinced, however, he will be investing in more Singh-Ray filters in the near future. 'I can now see how everything you guys do is about taking your photography to the next level,' he told me. 'I also now see why you use Singh-Ray filters. They make all the difference in the world.'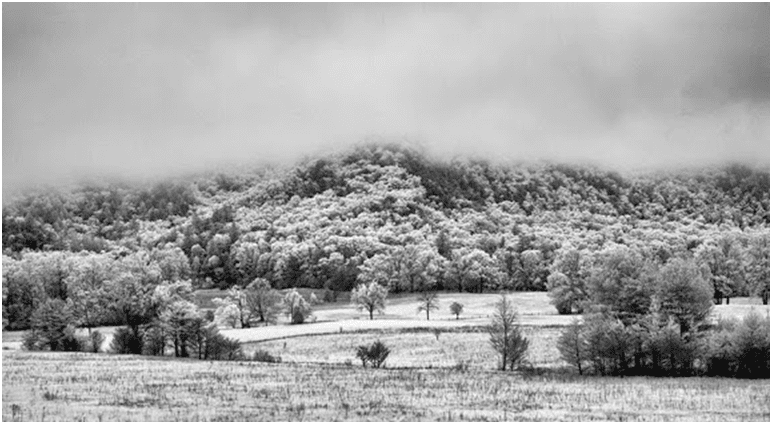 "While helping our students, we usually shoot right alongside them, and Rod and I both took advantage of the day's foggy conditions. We were in Cades Cove that morning, and just at the end of Sparks Lane I took this image with my infrared-converted Canon 5D camera using a Galen Rowell 2-stop soft-step ND Grad to help bring out the detail in both the fog and the foreground."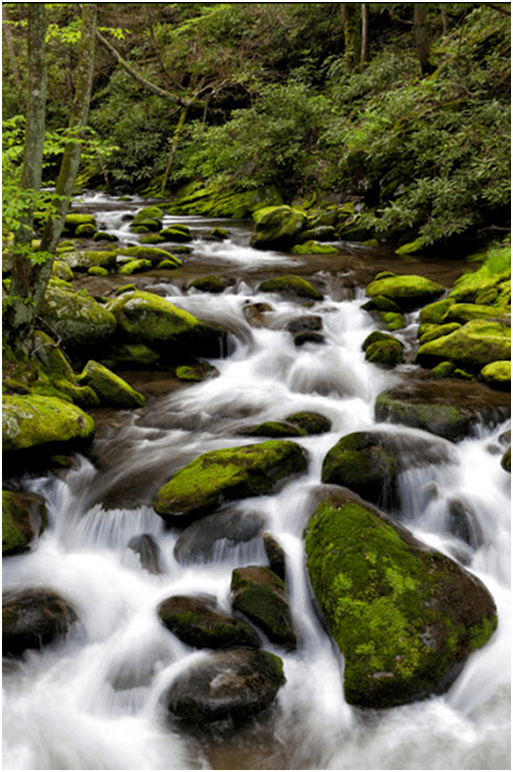 "I'm always eager to explore the possibilities my LB ColorCombo has to offer," says Rod, "especially on a beautiful spring morning in the Smokys. I find it works wonders when greens are in the picture, and it really accentuated the great color on these mossy rocks. For this image, I used a 70-200 mm Nikon lens to isolate a particular section of this quiet place.

"On the last morning of our workshop we headed to one of our favorite places in the park to be at sunrise. Foothills Parkway West is a well known 'must get to' area. I really envisioned a long exposure with lots of fog hopefully in the foreground to help me get the image I was after. I attached the Vari-N-Duo and set it and the camera for what I thought might let me hit the ground running when we got there. As luck would have it, we were not even close to being the first on the scene. There were at least 20 other photographers already set up there. As I looked at the scene I almost died. I could not believe how much fog there was in the valley and even above the mountains. I was grateful I had my camera somewhat preset. I think I was out of the car before Rod had come to a full stop. I grabbed my camera and ran to an open spot, put my tripod down and took this image. The exposure ran for 30 seconds at 400 ISO @ f/11. It helped to be ready, but I could not have made the image without my Vari-N-Duo."