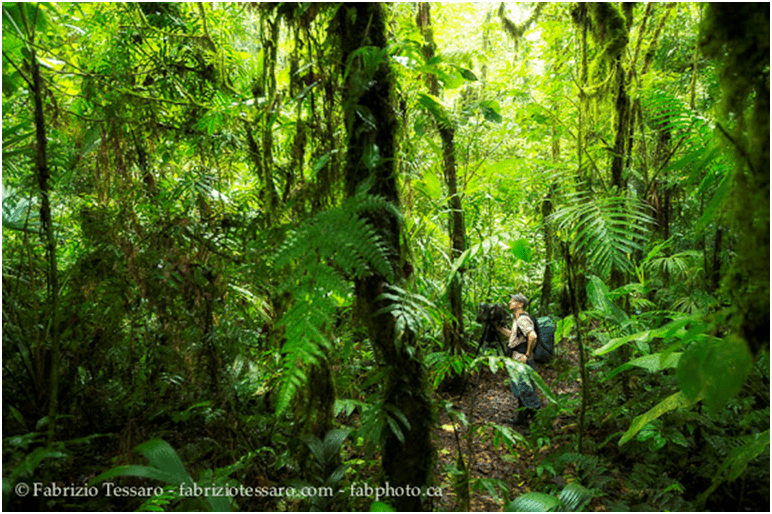 What would be different about this particular trip, was that — despite the incredible photographic opportunities presented by Costa Rica's vast biodiversity of wildlife — my focus would be on capturing landscapes of the rain and cloud forests of Monteverde. Our journey would also include a brief jaunt into the northern tropical dry forest area of Guanacaste and Santa Rosa National Park.
Finding strong compositions within the tropical rain and cloud forests is challenging. Simply put, these forests are busy. There is so much going on that it can be difficult 'seeing' through all the confusion. The image above shows Greg amid this so called visual confusion attempting to sort through all that's going on in this section of a cloud forest.
One on the most beneficial tools when photographing in the rain and cloud forests is a polarizer. Rain and cloud forests are often extremely damp and wet. Using a polarizer can control the strong glare reflected off damp and wet vegetation. Along with brightening clouds and darkening blue skies, the polarizer will also saturate colors and tone down highlights to really make an image pop. My circular polarizer of choice is the Singh-Ray LB Warming Polarizer — the LB stands for 'lighter brighter.'  meaning that the light transmitted through this filter is brighter by about 2/3 of an f-stop compared to manyd conventional polarizers. This gives me more light allowing faster shutter speeds plus improved auto focusing and metering in challenging lighting situations. The warming tone of the filter adds just a touch of warmth to an image, which suits my shooting style. The LB Polarizer helped give a warm tone and a little extra pop to the rainforest canopy in the above image. This filter is by far my favorite polarizer on the market, and I will say without prejudice that it is awesome!
Light is almost always at a premium in the cloud forest and as the mid-day sunlight filters down through the heavy canopy of tree-top leaves, it begins to illuminate more of the cloud forest. That's when fresh compositions and specific natural elements begin to jump out at you. In the image below, I liked how the shaft of light illuminated the tree fern leaves so I began to work with that concept. I used my polarizer to control reflections off the rainforest leaves and to add a little overall pop to the final image. In retrospect, I would have liked to capture a slightly wider angle, however, I am pleased with the final image as it portrays the mysterious mood of this particular cloud forest.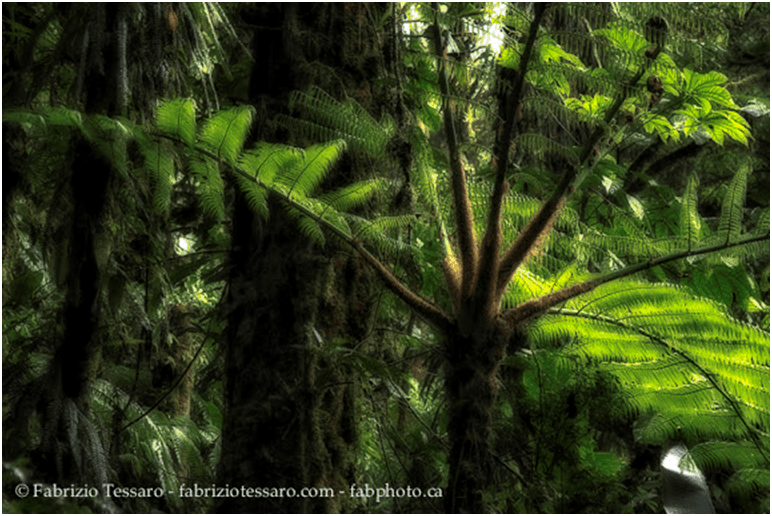 The little cascade below was a much simpler composition. The raised viewing platform I was on offered few framing angles and moving off of this platform was not possible. I decided on a simple wide angle view of this calming and peaceful cascade. Once again my LB Warming Polarizer was used to enhance color saturation and reduce reflections on the cloud forest vegetation and the water.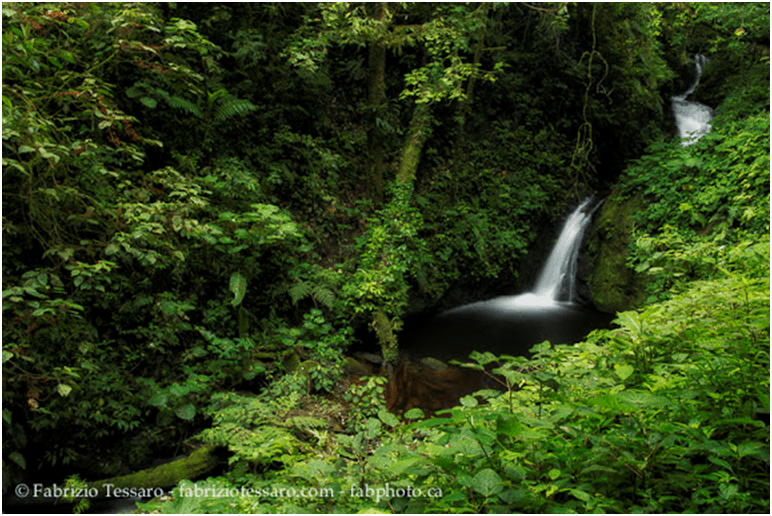 Unlike Costa Rica's cloud and rainforests, the tropical dry forest areas of Costa Rica tend to contain less vegetation with fewer tree species and an underbrush of shrubs with thorns and spines that can be a rather unpleasant experience! We discovered this problem on our hike to a viewpoint in Costa Rica's Santa Rosa National park. Hiking through heat, mud and the prickly shrubs, we reached the final leg of our goal. A steep climb faced us as we began the challenging ascent approximately 900 meters up to the viewpoint. With sweat pouring and our hearts racing, we reached the summit and all of our efforts were rewarded with an incredible view and one of my favorite images from the trip.
As the storm clouds began to form in the image below, we had to work quickly. I used my trusty polarizer for better color saturation and added my Singh-Ray 2-stop hard-edge ND Grad filter to balance the exposure differential between the sky and foreground. Our hike back down to our vehicle was greeted by gentle warm rains and while protecting my gear was my priority, I was perfectly happy to get completely soaked, cooled and refreshed by the rains.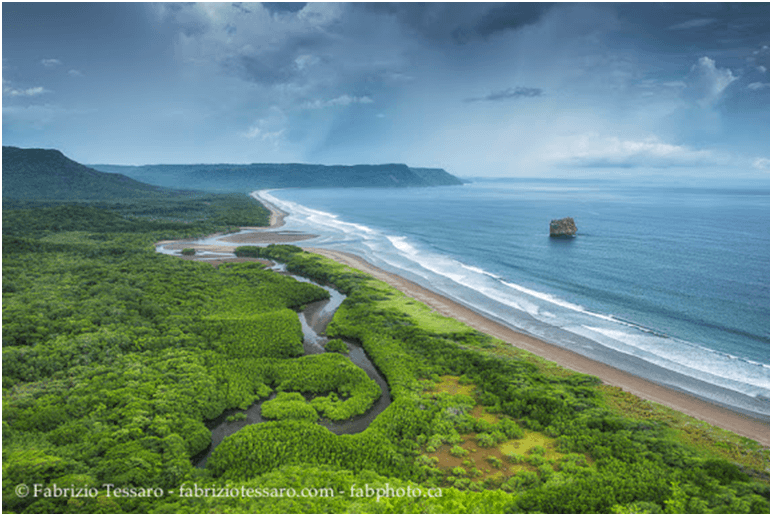 Throughout our trip, we were constantly looking for great sunset locations. Just off the roadway in the Guanacaste province area, we spotted an area overlooking rolling hills with a beautiful ocean view. We set up and patiently waited as the sun made its way toward the horizon. The sun was setting just to camera right — and let me tell you, it was intense! So intense, that along with my polarizer, I used a combination of both my Singh-Ray 3-stop soft-edge and 3-stop hard-edge Graduated ND filters to balance this incredible exposure differential. The soft-edge ND Grad was positioned with the filter area dropping down to the bottom third of the image and the hard-edge ND Grad was placed with the edge filter area just below the horizon.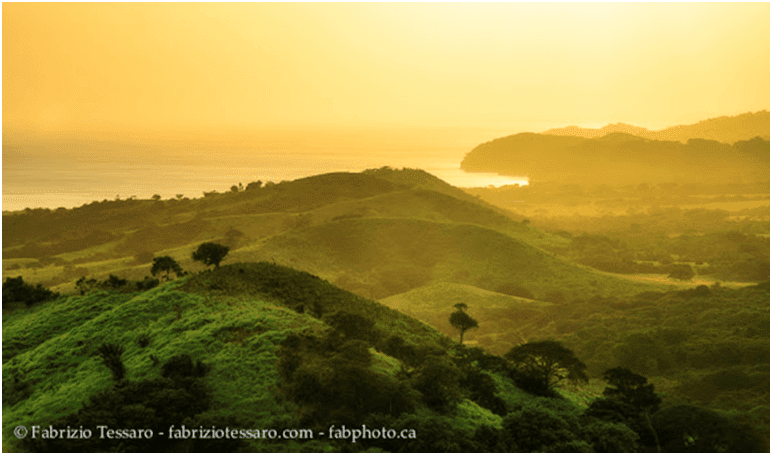 While my time spent in Costa Rica's cloud, rain and tropical dry forests was awesome, I look forward to heading out to meet the challenges of photographing the nation's south Caribbean coastal landscapes in the summer of 2013!
Fabrizio invites you to check out more of his work, or consider taking part in one of his workshops. Just click the links below for more information.