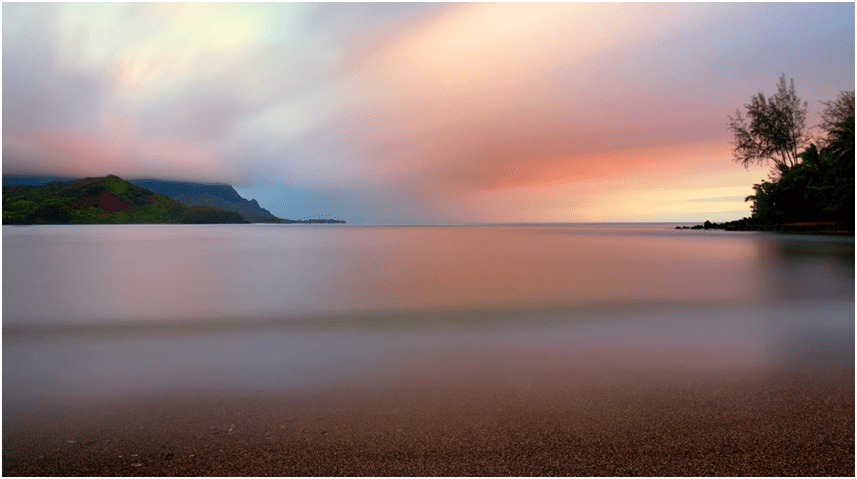 Dawn at Hanalei Bay, Kauai, Hawaii
Canon 5DMKIII, 24mm, 6 minutes, f/16, ISO 100, Singh-Ray Vari-N-Duo
Looking back at 2013, I was fortunate to photograph incredible landscapes from Eastern Utah to Hawaii and many places in-between. Of course, my Singh-Ray filters were always with me and are an integral part of my success.
During my Kauai Workshop this past June, I had my group on location at Hanalei Bay for first light. I love the soft hues of early morning island light and decided to allow the rather tranquil bay to soften with the help of my Vari-N-Duo filter.
I first set my tripod about a foot above the edge of the water, then framed my composition. Next, I added the Vari-N-Duo filter and dialed it down until I got a 6-minute exposure. While the camera was recording my image, I was able to help my students look for their own images!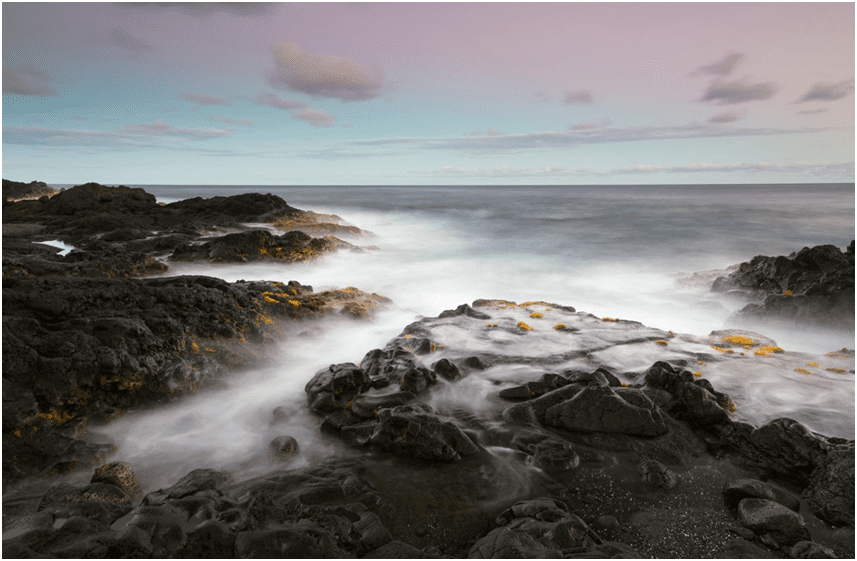 Dusk Light on Puna Coast, Big Island, Hawaii
Canon 5DMKIII, 16-25mmL II,  f/16, 15 seconds, 400 ISO
Singh-Ray Thin LB Warming Polarizer, Singh-Ray 2-stop hard-edge ND Grad
A couple months later, I was back to the islands to help my friend Gary Hart with his Big Island Hawaii workshop. Gary had discovered this little out-of-the-way beach along the Puna coast south of Hilo and we took the group there for a sunset shoot.
I was intrigued with the way the waves washed over the lava and decided to just keep shooting well after the sun had set until the color was gone. I had my Singh-Ray slim LB Warming Polarizer to help bring out the remaining warmth of the sky along with a 2-stop hard-edge ND Grad to balance the sky with my dark foreground. Fifteen seconds proved to be the perfect exposure adding just enough motion to the water to contrast nicely with the dark lava.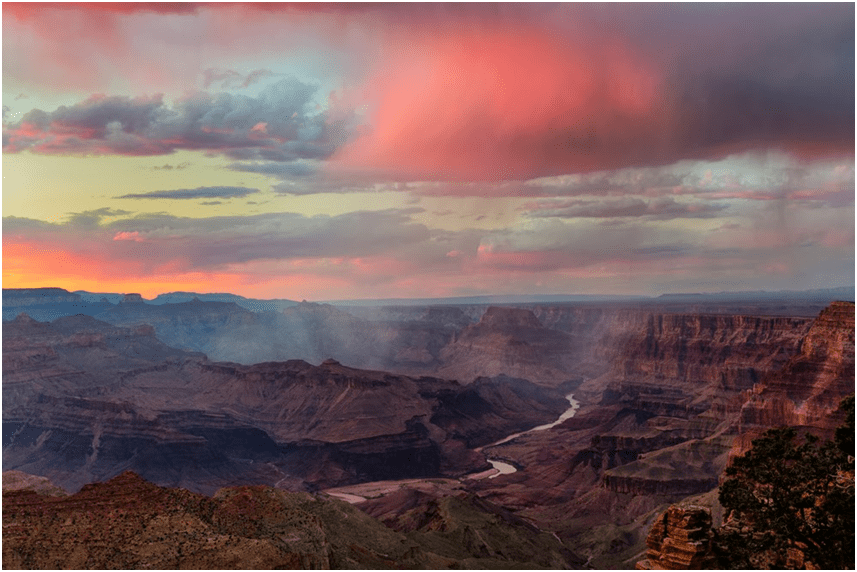 Evening Light and Rainsquall, Desert View, Grand Canyon, Arizona
Canon 5DMKIII, 24-70mmL II, f/16, 0.3 sec., 200 ISO,
Singh-Ray Thin LB Warming Polarizer, Singh-Ray 2-stop soft-step ND Grad 
In August, I found myself at the edge of the south rim of the Grand Canyon photographing this incredible light as a rainsquall had worked its way up the canyon. As it settled over the Colorado River, the setting sun painted the storm clouds with warm light. Fortunately I had my Singh-Ray Thin LB Warming Polarizer on my lens and handheld a 2-stop soft-step ND Grad to balance the scene. I was a mere 4 weeks out of knee replacement surgery and felt blessed to be witnessing this amazing scene!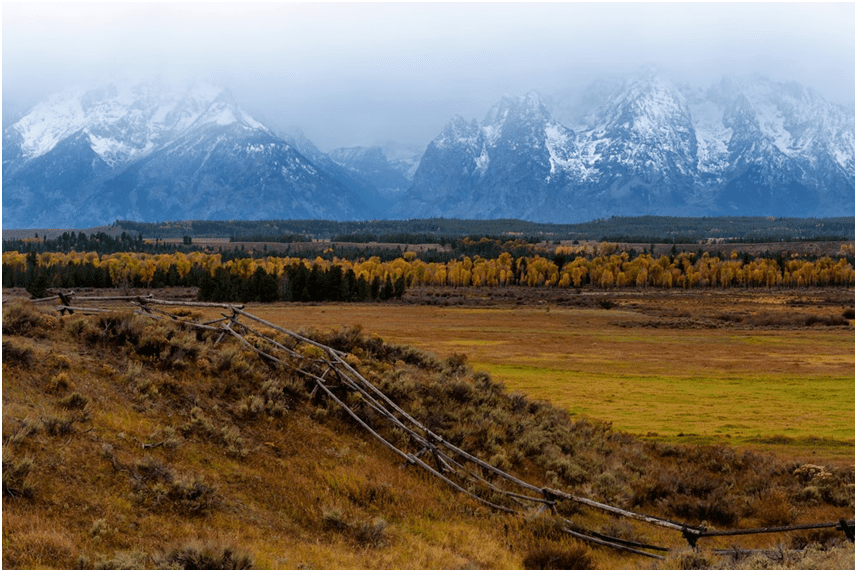 Early Fall Evening, Grand Teton National Park, Wyoming
Canon 5DMKIII, 70-200mmL II, f/16, 0.3 sec., 200 ISO,
Singh-Ray Thin LB ColorCombo, Singh-Ray 2-stop hard-edge ND Grad 
In late September, I arrived to in Jackson, Wyoming to the season's first snowfall. I was about to teach two back-to-back fall Grand Teton Workshops and captured this scene on the second evening of the first workshop. The cottonwoods were turning and the snow on the dramatic Tetons was an unbeatable combination! Unfortunately, later that night, our government voted to close down the National Parks as part of the government shutdown.
Again I combined a Singh-Ray LB ColorCombo polarizer with a 2-stop hard-step ND Grad to not only bring out the vibrant color of the foreground grasses and mid-ground cottonwoods, but to also balance them against the snow-covered Teton range. Fortunately we found enough locations just outside of the park to complete both workshops.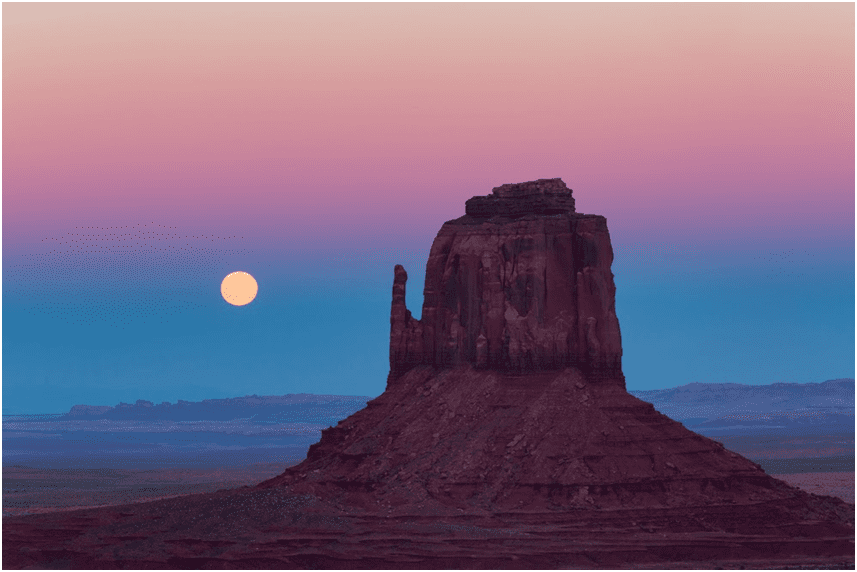 Moonrise and East Mitten, Monument Valley, Utah
Canon 5DMKIII, 70-200mmL II, f/16, 0.6 sec., 200 ISO,
Singh Ray thin LB ColorCombo polarizer 
A week after my Grand Teton Workshop was completed, and with the National Parks still closed, it was off the Utah for my Arches/Canyonlands Workshop. Once again I had to scramble to find alternate locations and decided to take the group to Monument Valley as a full moon was going to rise between the east and west mittens at sunset.
I held my breath as my group lined-up along the rim, but relaxed when I saw the moon begin to rise right on queue! A beautiful twilight wedge formed along the eastern horizon and my LB ColorCombo captured the amazing hues exactly as my eye saw the scene!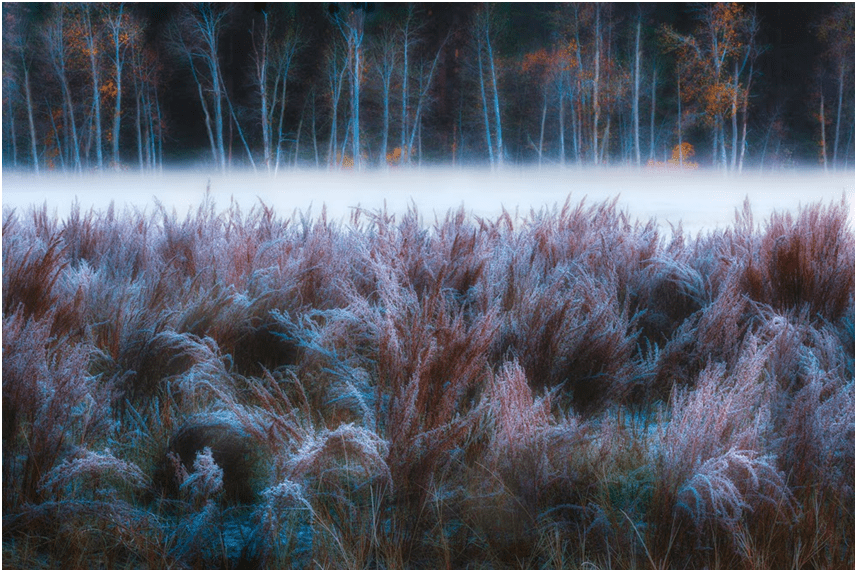 Mist and Hoar Frost, Yosemite National Park, California
Canon 5DMKIII, 70-200mmL, f/22, 2.5 sec., ISO 100,
Singh-Ray Thin LB ColorCombo Polarizer 
Finally, in November, I used my LB ColorCombo once again on a misty morning in Yosemite Valley to bring out the color in these warm grasses as mist rose off the Valley floor.
In a park like Yosemite, incredible scenes are seemingly everywhere. I was pleased that I found something unique that did not include the granite monoliths, which have been photographed over and over. The delicate red and green hues were captured beautifully by this filter along with the warm fall color leaves remaining on the row of cottonwoods in the background.
My travel and workshop seasons are gearing up soon, and I know I'll be glad to have my Singh-Ray filters in my kit time and time again in the year ahead, just like last year.
Don's workshops fill up quickly, so be sure to visit his website and check out some of the planned destinations, such as Big Sur, Grand Canyon, Monument Valley, Bryce, and several others. You can also purchase affordable prints of the above images and over 500 more from Don's website.