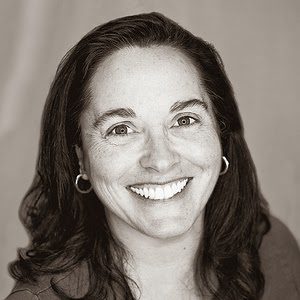 To say I am a fan of Singh-Ray filters would be an understatement. I carry an assortment of these bad boys everywhere I go. My collection includes the 15-Stop Mor-Slo, Vari-N-Trio, I-Ray Infrared, Gold-N-Blue, and various ND filters. Up until recently, I owned 77mm diameter lenses, but in January I did a complete switch to the Fuji X system. On my first outing with the new gear, it crossed my mind that my filters, which were purchased to fit my 77mm lenses, would not work as well on my new lenses, which range from 49mm to 62mm. To my sweet surprise the filters actually worked better! I no longer had to worry about vignettes on my wide-angle lens! All I needed was a few step-up rings and I was ready to go.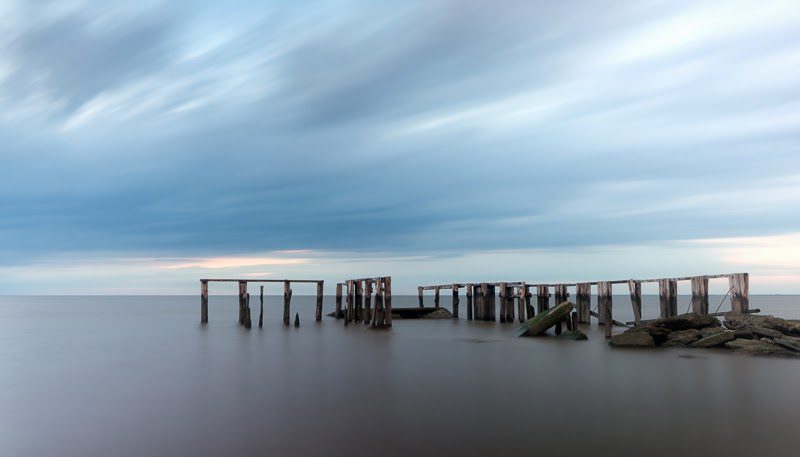 Sony SLT-A99V, 16-35mm F2.8 ZA SSM, 28MM, 127.0 sec at F/9.5, ISO 50, Vari-N-Trio Cape May, NJ
For me, photography is an extension of who I am and has been for a very long time. I find it meditative, creative, challenging, and rewarding from the associated travel through the visualization of a composition to the post processing and production of the final image. I can honestly say that my passion is to capture everything I see. I enjoy the natural world, with endless landscapes, waterscapes, and animal wonders, but am just as likely to be found roaming the city shooting street scenes, people, and "urban-cityscapes."
Although I use all of my Singh-Ray filters at one time or another, my favorite filters are the ones that show motion through slowing down the scenes (Vari-N-Trio and 15-Stop Mor-Slo). These filters are best used when capturing water and cloud motion, while leaving the main "still" subject crisp and clear. One aspect of photography that I enjoy the most is sharing the experience with friends. Traveling with, shooting with, comparing with friends keeps me motivated and excited about photography, as I am constantly learning new things. To me, these experiences are inspirational and I believe they can elevate each person's photography to the next level. The images that follow were taken on three different trips, literally from coast-to-coast and were taken with either the Vari-N-Trio or the 15-Stop Mor-Slo filters, as noted.
For the image at the top of the story, I used the Vari-N-Trio to extend the shutter time to just over 2 minutes. This allowed me to capture the movement of the clouds, while creating a plane of glass on the ocean's surface. I chose the Vari-N-Trio because the variable density lets me get just the right amount of exposure reduction for the given scene. In this case, the heavy overcast sky would not have been conducive to using the 15-Stop Mor-Slo, which I save for bright sunny days with big puffy cumulus clouds.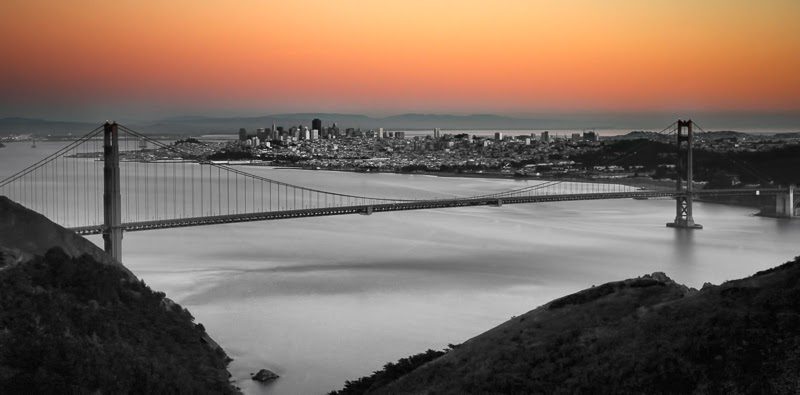 Sony SLT-A99V, 24-70mm F2.8 ZA SSM, 50MM, 825.0 sec at F/9.5, ISO 640, 15-Stop Mor-Slo San Francisco, CA
This image was captured in the late afternoon, well before sunset. The sky was too bright for the Vari-N-Trio to achieve the look I was going for, so I tried the 15-Stop Mor-Slo. The Mor-Slo allowed me to achieve a nearly 14 minute exposure, which resulted in smooth water and a nice layer of fog on the horizon, that was otherwise impossible to capture. I chose to process this image with selective color as I felt it better conveyed my mood at the time I was shooting.
As I mentioned, until recently, I was using 77mm lenses. This next image is an example of using the Vari-N-Trio with a step-up ring on a lens that is just 49mm in diameter.
Some brief background here. In January, I sold all of my Sony Alpha gear and switched to the Fuji X system. I addition to carrying a lighter load, I have been pleased with the quality of the images I have created with the Fuji XE-2. On a recent trip to California, I made it my mission to put the camera through its paces, testing out features and shooting images in the way I always have. This includes testing whether my filters would work just as well. Not only did the Fuji XE-2 perform beautifully, I was able to use my filters with ease!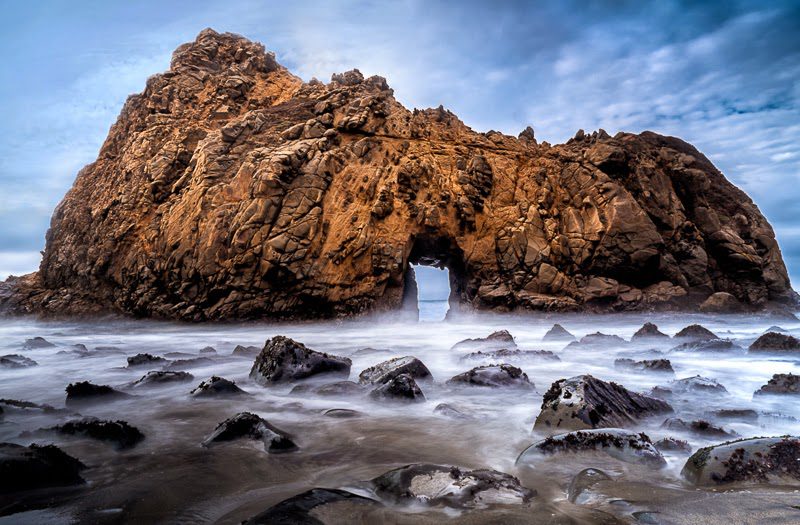 Fuji XE-2, XF 14mm F2.8 R, 14MM, 12.0 sec at F/16, ISO 200, Vari-N-Trio Big Sur, CA
This image was taken mid-morning on a reasonably overcast day. Due to the low light available, I opted to use the Vari-N-Trio to slow the water down and to give a sense of motion. Again, due to the variability of the Vari-N-Trio, I was able to experiment with the exposure to capture the feeling of being pulled into the opening and into the world beyond.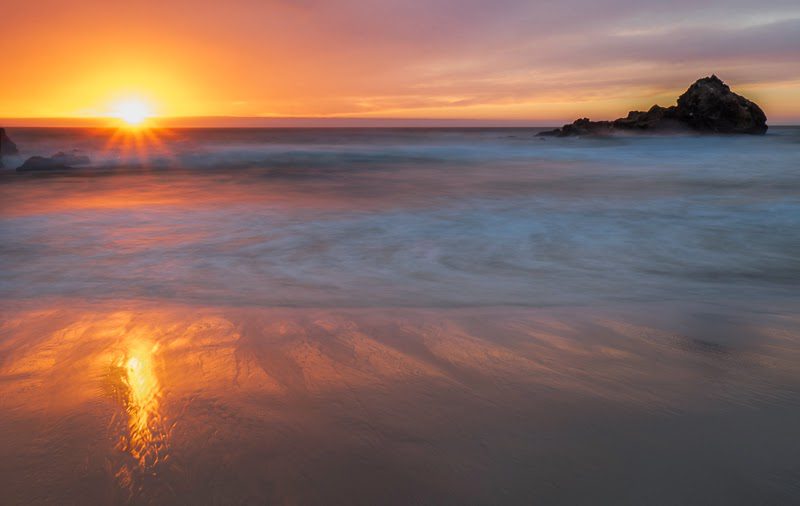 Fuji XE-2, XF 18-55mm F2.8 R, 26.5mm, 7.5.0 sec at F/22, ISO 200, Vari-N-Trio Big Sur, CA
This image was actually captured on the same beach as the image above, although clearly at the end of the day. I love to capture the sun with rays, or as a starburst. Setting the f-stop to f/22 achieves this effect and will work on not only the sun, but on street light, headlights, or any bright, pinpointed light source. This effect can be added in post processing with various software products, but I prefer to capture it in camera. Even though the sun was setting, it would be impossible to capture the motion of the surf, while facing directly into the sun, without a filter. So again, my go to filter for this type of scene is the Vari-N-Trio.
After organizing a number of photo tours for our friends over the past year and encouragement from our friends, my friend and I decided to start a photography tour business. Given our similar passions for photography and interests in subjects, we decided to take the challenge on together and created Road Runner Photography Tours. We lead weekend and week-long photo tours to locations such as the Great Smoky Mountains, The Palouse, and Iceland. We also established a Meetup group and lead day and weekend trips around the Mid-Atlantic. For more information on our tours and Meetups, check out www.roadrunnerphototours.com including her newly announced 2015 tour dates.