Each of the workshops, lasted five days with a two-day private excursion with two friends tagged onto the end. Needless to say, it was a long steady pace with very little sleep.
I left California on October 25 with my co-instructor Scott Schilling. We took an early morning flight from San Jose, California to Las Vegas, Nevada, and then drove another 8 hours to Moab, Utah — which would be home base for my Arches/Canyonlands Workshop. I like to time this workshop to the full-moon cycle, which ocurred this year during the last week of October.
Early the next morning, I took Scott to Canyonland's famed Mesa Arch. This is such a popular spot, that we decided to arrive 90-minutes prior to sunrise. Halfway down to the arch, with the trail lit only by our headlamps, I raised my eyes up and off the trail for just a split-second and stepped off a rock severely twisting my ankle! With the prospect of 14 straight days ahead of me, I couldn't conceive of how I was going to teach. Fortunately I could put just enough pressure on my ankle to move, and very carefully I continued to the arch only to find another workshop already in place! I ended up at the far left side of the arch, too far I had thought to make any meaningful composition, but I was lucky to come away with this image as the sun hit the underside of the arch.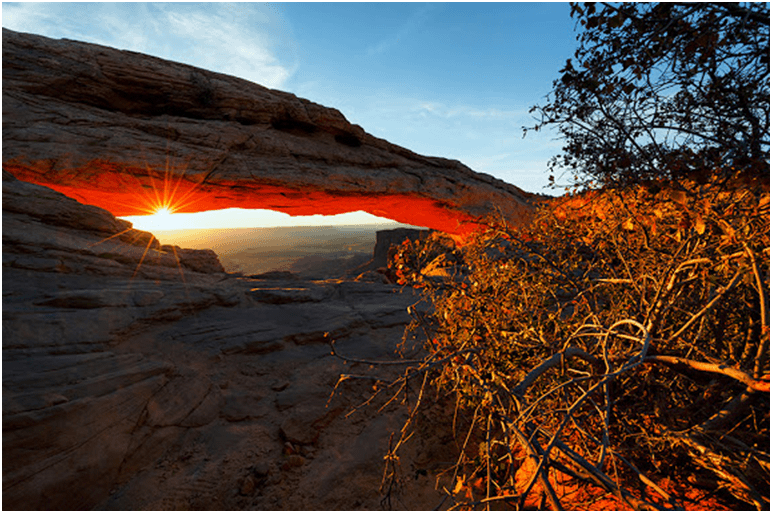 Even though I could feel my ankle swelling, I didn't let it deter me from enjoying this amazing site. I used a Singh-Ray thin-mount LB Warming Polarizer on my Canon 16-35mm L Series II lens to ensure that the warmth that I was seeing would render realistically. I was amazed at how accurately the light was recorded and how very little post-processing this frame needed.
Thankfully, a supply of ice, a firm neoprene ankle support, and some rest before the workshop began enabled me to move just enough to lead my students to the various locations in both parks.
As I mentioned earlier, the workshop involved a number of location shoots involving the full moon. We arrived in the dark early one morning at Arches famed Windows Area to photograph Turret Arch and a setting moon. I used my Canon 70-200mm L Series II lens with a Singh-Ray ColorCombo Polarizer to really bring out the warmth of the morning's twilight wedge that had formed in the west; fortunately, I was able to record this scene just as the light matched both the landscape and moon evenly.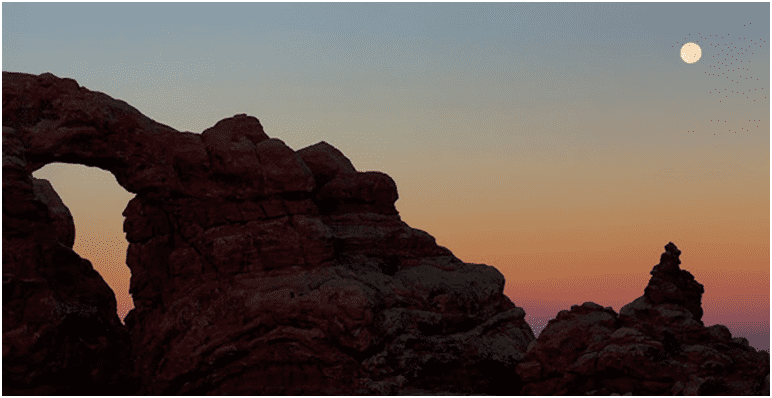 Though we had many amazing locations to photograph, we ended the workshop with a sunrise shoot at Dead Horse Point State Park, which is located just beyond the northern end of Canyonland's Island in the Sky District. Having photographed this location many times before, I stayed within one confined area with half the students and challenged myself to find something to use as a foreground element and this little bush growing between these two slickrock boulders ended up fitting the bill. I composed my scene and waited for the sun to peak over the La Sal Mountains to the east.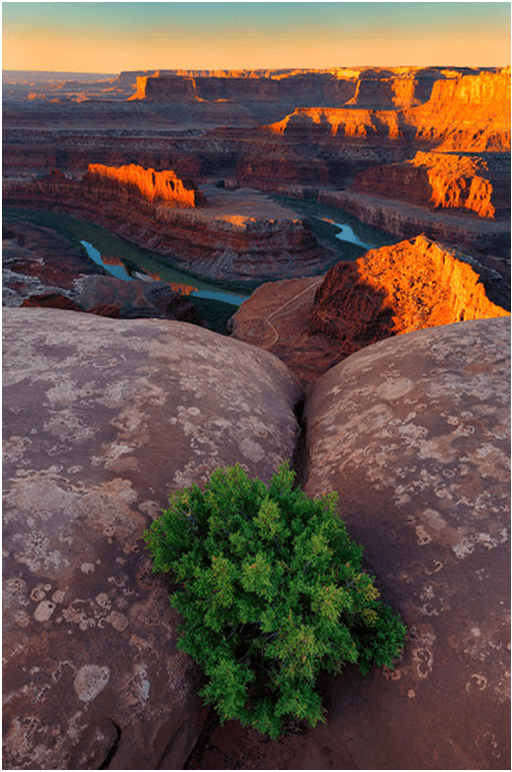 As the first warm light of the morning began to paint the landscape, I adjusted my Singh-Ray LB Warming Polarizer on my Canon 24-70mmL Series II lens, then added a Singh-Ray 2-step, hard-edge ND Grad to hold down the exposure on the sky. I like handholding my grad filters and using my Live View to make sure I get the transition line looking realistic. Handholding allows me to be very quick and accurate.
Unfortunately one of our participants had taken a nasty fall on the slick rock the day before, but thankfully did not have any broken bones. Scott and I made sure her travel arrangements home were in place, and then we packed and headed off towards Bryce Canyon for our next workshop in Bryce Canyon and Zion National Parks.
We were both looking forward to one morning of sleeping in, but the forecast was indicating that we would have the potential for some fabulous color as clouds were drifting in from an approaching storm front. Because we were a couple days away from Daylight Savings Time, sunrise was scheduled for 8am, and we were a mere five minutes from our shoot location. In retrospect, we did get to sleep in and also got in a sunrise shoot – rare when that happens! It turned out to be a good call as we arrived on location in the dark and were treated to this amazing sunrise sky.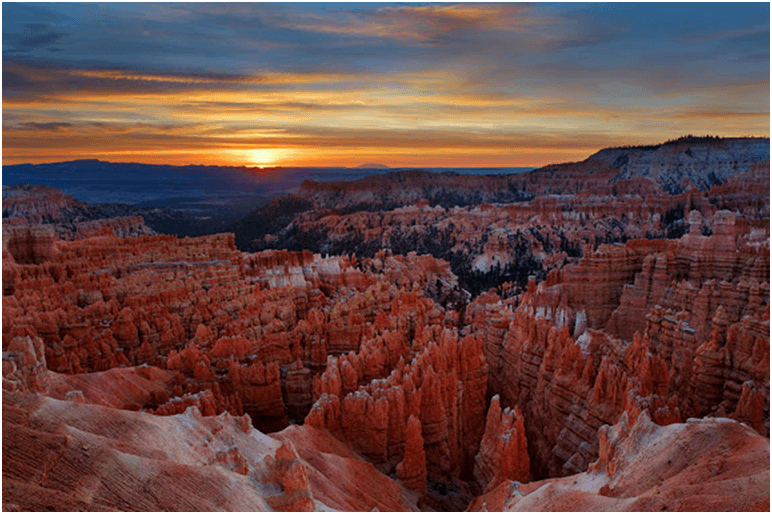 To balance the exposure levels in this scene, I used three Singh-Ray filters. My polarizer was a Singh-Ray LB Warming Polarizer to ensure that the warm light my eyes were seeing on the hoodoo formations recorded accurately. The next challenge was to make sure I captured the sky correctly and I used a Singh-Ray 3-stop Reverse ND Grad plus a 2-step soft-edge Grad. I simply stacked both these filters together and handheld them in front of my lens.
Fortunately the beautiful colored skies stuck around for a good portion of the workshop at Bryce Canyon, but on the last morning, we were greeted with clear skies. After photographing the sunrise from above the rim, Scott and I quickly moved the group to another location for this backlit scene of what I call "the glowing hoodoos!" This light lasts for only a brief time but everyone in our group had success in capturing it. I shot this scene with my Canon 70-200mm L Series II lens, coupled with a 1.4x teleconverter. I had my Singh-Ray LB ColorCombo Polarizer attached to ensure the color recorded as rich as we were all seeing it. As you can see, the filter helped nail the scene!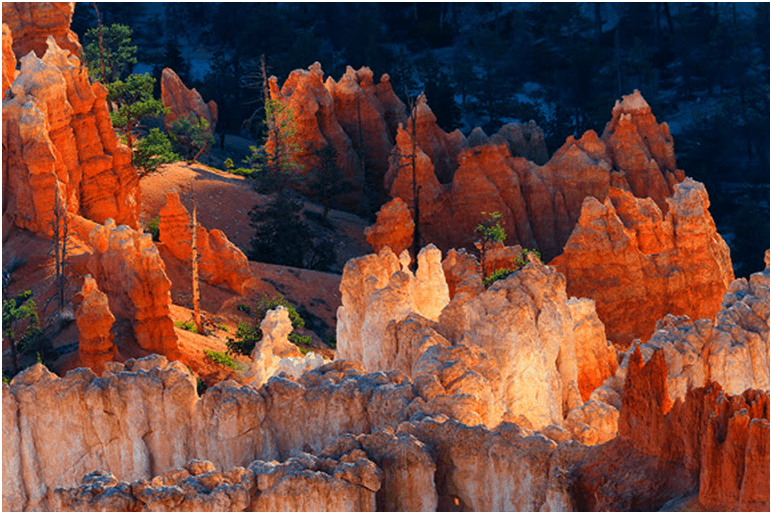 Once the light faded, we all headed back for breakfast and the two-hour commute to Zion National Park. I purposely timed this workshop to take advantage of Zion's amazing fall color and this year we arrived with the colors near their peak! Our first evening, we split the group along two different locations to photograph the iconic view of the Watchman and the Virgin River. I actually captured this image about 45-minutes prior to sunset as some clouds began to drift by what had been a solid blue sky. Again, I used my Singh-Ray LB Warming Polarizer to ensure that the yellow cottonwoods recorded properly.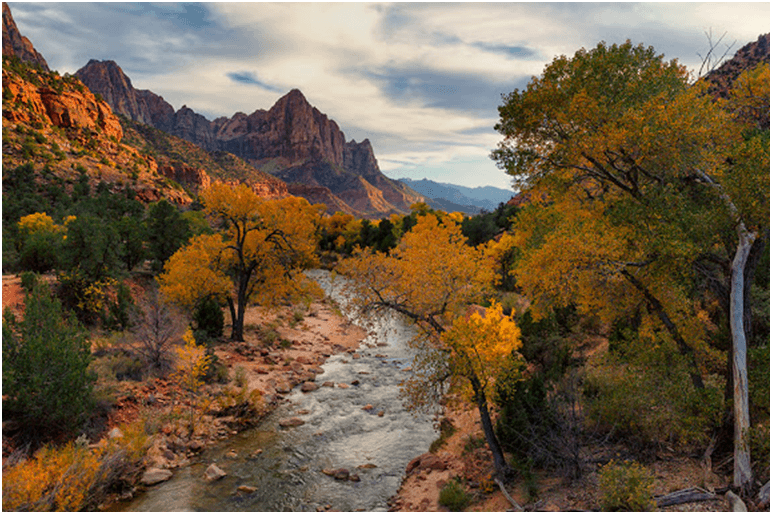 We spent a good portion of the workshop photographing throughout Zion Canyon as the fall colors made this park a photographer's paradise. We concluded the workshop with a morning shoot in the canyon, and after saying our goodbyes, I met two friends (whom I had worked with over the years) for the start of a two-day private trek starting with the famed Zion Narrows. After donning my dry suit, neoprene socks and creek boots, we were off for a 6-plus hour hike up to Wall Street.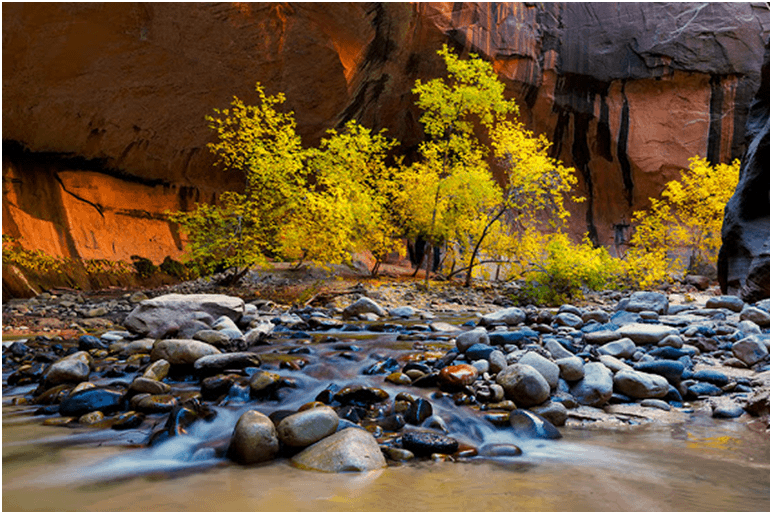 Though we photographed many locations both up and back, this image was one of my favorites from the day. This also happened to be the last location we photographed before exiting the Narrows. I loved how the warm light striking the Kayenta Shale walls worked in harmony with the cottonwoods. Again I used my Singh-Ray LB Warming Polarizer to accentuate the color that my clients and I were experiencing. The polarizer also reduced the glare from the high overhead indirect light as the sandstone canyon walls can exceed 2400 feet in elevation. It is truly an amazing experience with the light constantly changing.
On the last day of the trip, we had our permits ready to hike to the famed Subway. I had made the trip in the spring and was really looking forward to hiking it during the peak of fall color. It's a grueling 9-mile hike (more like 12 miles by the time you navigate back and forth and lose the trail a number of times), but the reward that waits is almost magical. It starts with three beautiful waterfalls including Arch Angel Falls.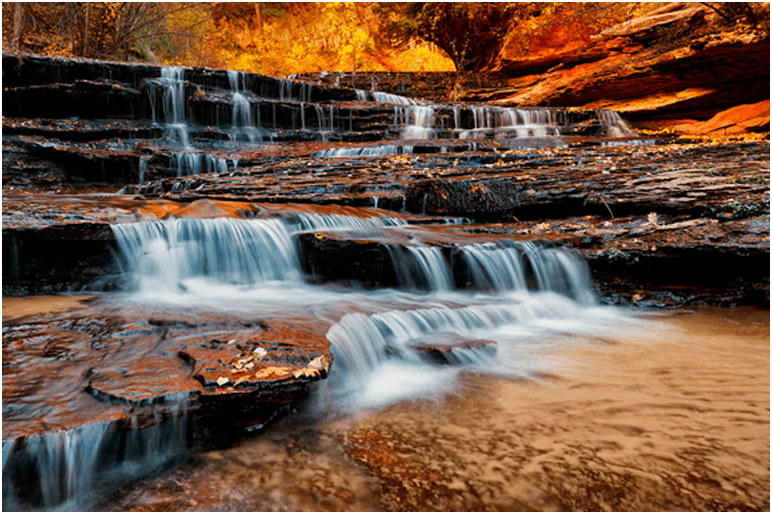 Because the canyon was lit by indirect light from a clear blue sky, there was obviously an abundance of ultraviolet light that had to be dealt with. This is where the Singh-Ray LB Warming Polarizer is worth its weight in gold as it eliminated the bluish cast in the highlights of the water while retaining the warmth of the surrounding sandstone (Kayenta Shale) walls.
Our last stop was the famed Subway and we were shocked to find that we had it all to ourselves! We quickly set up with wide-angle zooms and I framed this scene.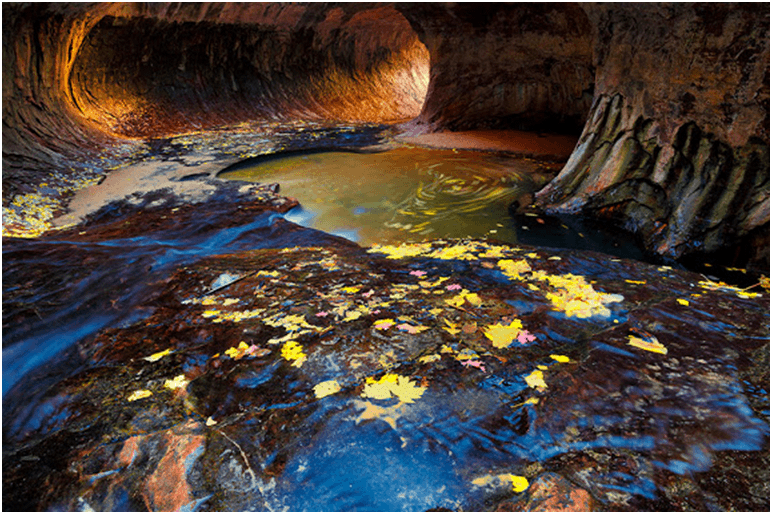 Again my filter of choice was the LB Warming Polarizer since the scene was lit by indirect light that was very blue. Not only did the polarizer help remove some the blue cast, but it also dealt with the bright reflections of the wet shale and colorful fall leaves. The water looks blue as it is simply reflecting the blue sky.
Keeping a careful eye on our watches, we timed our three-hour hike out of the canyon to arrive back to the parking lot just before darkness took hold. Thoroughly exhausted from our two days of hiking, we celebrated that evening with a pizza and a bottle of red wine. It was a great ending to a long but very rewarding two weeks.