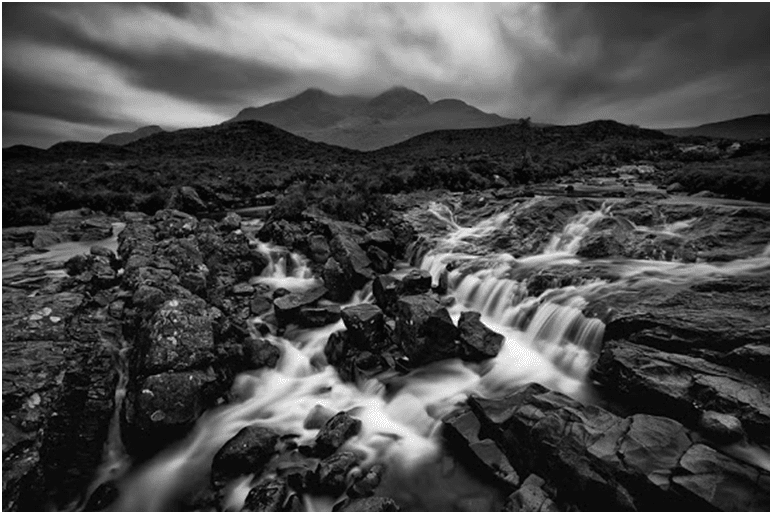 Barren, rocky, mountains floating in the mist, the ruins of historic castles, and rugged coastlines — I wanted to see it all. Once I began my career in landscape photography, it wasn't a matter of if I would finally make it to Scotland… only when.
This past summer, after a couple marvelous weeks in Iceland, my travels took me to Scotland to spend three weeks scouting for upcoming Aperture Academy workshops. I had done my research, and spent months on-line scouting various resources for locations I wanted to photograph during my time in the country. I also knew well in advance that I would need a variety of Singh-Ray filters in my bag to help me battle all types of light.
Several previous trips to photograph in Iceland has taught me that weather in the far north can be unforgiving. As a precaution, I decided to bring my Singh-Ray 10-stop Mor-Slo ND filter to use for some moody long exposures if the weather should give me storms and no great sunset color. Although the weather is as varied and intense in Scotland as it is in Iceland, the daily 'window' for great light isn't as long in Scotland. Iceland can give you epic 3-4 hour sunsets on any given day… that window is only 1/3 as long in Scotland. I knew that when the light was right I would need to be ready to shoot with little time for mistakes. On those days when the weather wasn't cooperating, I would need to figure out other ways to make stunning images…that's where the 10-stop Mor-Slo filter came in handy. If it were not for the Mor-Slo filter, I would've struggled mightily to get anywhere close to the number of images I got during my stay.
When I'm scouting a country, I'm constantly moving. We were checking weather and driving over 5 hours every day in search of the best conditions we could find, and often those conditions were tricky.
One day we sat in the car at a location watching 60-mph winds whip rain vertically across the hood of our car. Discouraged, we drove twenty minutes away to white puffy clouds and bright sun, seeing sunny skies so close to our previous location we got hopeful that if we drove back, conditions would change there as well. As luck would have it they did, and we were able to see some magnificent light in the early evening that lasted only thirty minutes. Then the storm found us again and the wind and rain returned. It was a constant hide and seek game with the climate, one that we often lost.
Despite the tough conditions, we found that some of the more dramatic light happened in the mid-to- late afternoon each day. During these times we had great clouds and contrast in the scene, but unfortunately these were the times of day with the least amount of color. But it was suitable for shooting monochrome images. Combined with the gusting winds and threat of rain, we were always trying to make the most of each time we brought out our cameras.
The image at the top of this story is from the Isle of Skye, a wild and amazing section of Western Scotland. During the afternoon we hit this location, which is not far off the main road, the clouds were great. The color wasn't amazing, but I knew with the movement of the clouds I would still be able to get something nice if I took a long exposure. The answer would prove to be the 10-stop Mor-Slo ND filter.
One of the questions I often get when people are using their solid ND filters is 'where do I start?' That's a good question! The meter readings can often be very misleading when shooting such long exposures. During mid-day and early afternoon shooting, I typically follow this routine when using a solid ND filter of 8-10 stops.
Because the goal in this case is a LONG exposure, I automatically stop down my aperture to f/20-f22. I know some people worry about losing image sharpness at the smaller f-stops, but I've found that my lens is plenty sharp at f/20 for my liking. The next thing I do is to make sure my ISO is at 'L' or 100…the lower the better. The lower the ISO, the longer the exposures you can make.
Once I have those two settings, my next decision is how long should the starting exposure be. I typically go with 50 seconds. I've found that in most cases — while that might not be the exact exposure I need — it gives me a good base to work from. A part of this process requires some trial and error… I just try to keep that to a minimum. If the sky is really bright, I will often add a 3-stop soft-step ND Grad filter as well to help balance the exposure. I'm a big fan of hand holding my filters, even for long exposures. So I can tell you… hand holding my ND Grad for 50 seconds isn't a bit of fun…so if I need a short break to shake out my wrist, I'll do that every 20-25 seconds for a couple seconds.
After I've taken the 50-second practice exposure, I look at the histogram. What I'm looking for is a general overall good histogram, and no burned out highlights. If the histogram is more left-heavy (shadowy) I know I need to add more time to the exposure. If the histogram is in the middle, or slightly right, I know it's good. If there are very small patches of the sky that are burned out, I might try the same exposure with a 4-stop soft-step grad, or simply repositioning the 3-stop grad at an angle to help it cover those brighter spots.
Most of the time, the exposure and resulting histogram are on the dark side, which is good…as it lets me know I can go LONGER with my exposure and get more movement in that sky. For this first photo, after my initial test shot, I saw that the histogram was quite narrow, and left heavy, so I simply doubled the exposure time, added a couple more seconds for good luck and ended up with a time of 105 seconds. For the middle of the day, this was a GREAT exposure time. It got me some movement in the sky and didn't burn out the waterfall. I converted the photo to monochrome with Nik silver EFX, and I was really pleased with the result. This shot would not have been possible — nor as interesting — had I shot it straight up without the Mor-Slo ND filter.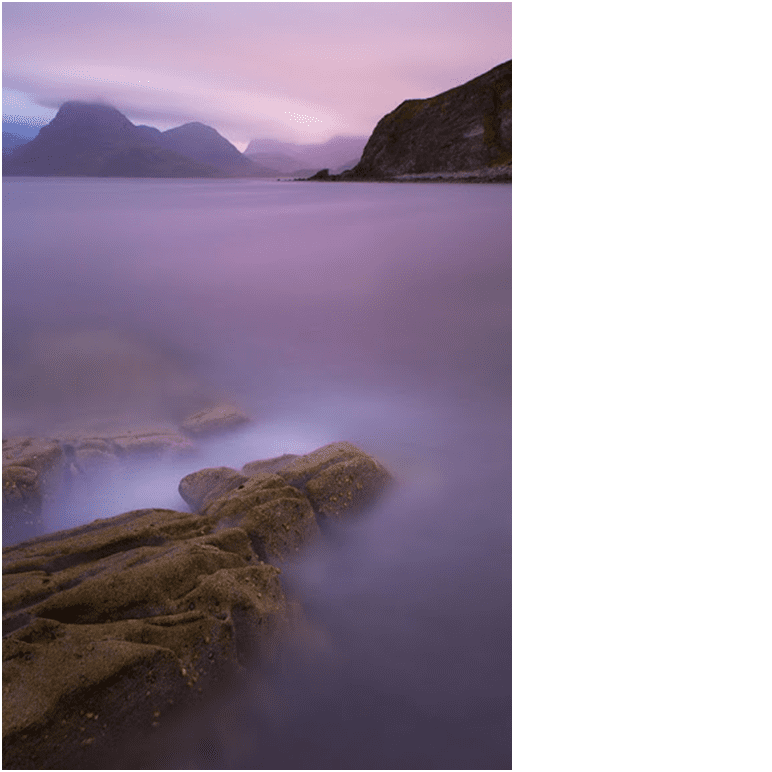 The second image was a little more tricky as I took it later in the evening, shortly before sunset. This was also taken on the Isle of Skye in the town of Elgol, a very tiny seaside town near some of the most striking coastline I've EVER come across. I've been wanting to come to this spot more than any other in Scotland, and I have to admit I was a little disappointed when the light was less than epic. I have to think every traveling photographer has had that same hope that, 'If I can ONLY get amazing light in ONE spot, I want it HERE.' Elgol was that spot for me. The clouds had looked amazing all day, and I had very high hopes it would all pay off when the sun set. However, nature threw me a sinker, and when I showed up we had very little, muted color, and mostly thick cloud cover.
Knowing that, my only hope was to go for a SUPER long exposure and see if I could create something more moody. I kept the same procedure for this image that I do with my daytime long exposures, except that I started at 2 minutes instead of 50 seconds. That exposure proved to be quite dark, so I just went big and shot for as long as I could keep focused. I used a 3-stop soft-step ND Grad filter to get more exposure on the foreground. If you think hand holding a filter for 50 seconds is bad, 291 seconds is down-right impossible. I pulled my hand away every 45 seconds or so, waited 10 seconds to let my hand un-cramp, and then held it again. There was no exact science to this process. I just wanted to hold back that brighter sky… and every bit helped.
The final exposure, as I mentioned, was 291 seconds, and I was happy with the way the water looked. Due to the longer exposure, that limited color in the sky was able to build up, and actually looked better than some of the shorter shots I had taken when we first arrived.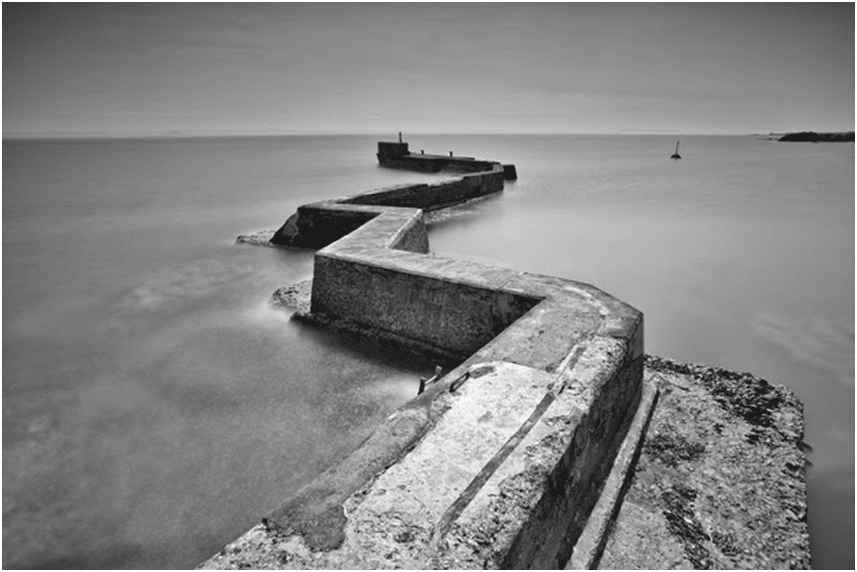 This shot was taken smack dab in the middle of the day. There weren't a lot of interesting clouds in the sky, but we were on our way to a location farther away, so my time to shoot this interesting sea wall just outside of Edinburgh was limited to the middle of the day. I cranked up the aperture, and stacked a 3-stop and a 4-stop filter to hold back the sky, and give me a longer, more balanced exposure. I ended up being able to push my exposure to 74 seconds, which smoothed out the water. When converted to monochrome, this exposure gave me a super moody shot I quite enjoy. Again, this shot wouldn't have been possible without the Mor-Slo filter.
The process was the same for this old ruined coastal castle. We were on our way to hopefully catch a super sunset from some massive cliffs, but we wanted to shoot this castle, which is on the way. Many of our shoots required these tough decisions. We have one location for sunset, what do we choose? We had photographed quite a few castles already, and the cliffs looked to have the best possible conditions, so the castle would have to settle for a late-afternoon long exposure shot. I ended up being able to grab 84 seconds here using my 4-stop soft-step ND Grad filter in addition to the Mor-Slo. My Mor-Slo is great in that it's a thin ring mount, which means I'm able to really shoot wide and get better compositions and not get any vignette from the stacked filters.
I really like the streaking clouds in this image, and the texture and detail in the old ruins. I wasn't very comfortable standing on the edge of the cliff to take this image, but it was worth it in the end.
Scotland was a tremendous country, and we enjoyed our time there immensely. We saw everything on our massive list and more, and put together what we think will be a truly memorable photographic adventure workshop for the years to come. I can honestly say though, that had I left my Mor-Slo filter at home, I would've struggled far more to find shots that appealed to me, and my photographs would've struggled as well! I'm looking forward to returning with my 15-stop Mor-Slo in 2014, and showing the attendees of my workshop there how they too can use their Singh-Ray ND filters to improve their images."
Brian Rueb is a professional photographer living in Northern California where he is the lead instructor for Aperture Academy in San Jose. In addition to traveling and shooting as often as he can, he teaches between 35-40 workshops a year.