My favorite combination of on-camera filters starts with the 10-Stop Mor-Slo ND filter on my Canon 24-70mm f/2.8 lens. This is a very sharp lens. I add the Gold-N-Blue on top of that, and then use some combination of 4×6 Graduated ND filters. My favorite is the Reverse ND Grad. Sometimes I just need the Gold N-Blue Polarizer, which was used in the above panorama from the Temperance River, about a mile above Lake Superior.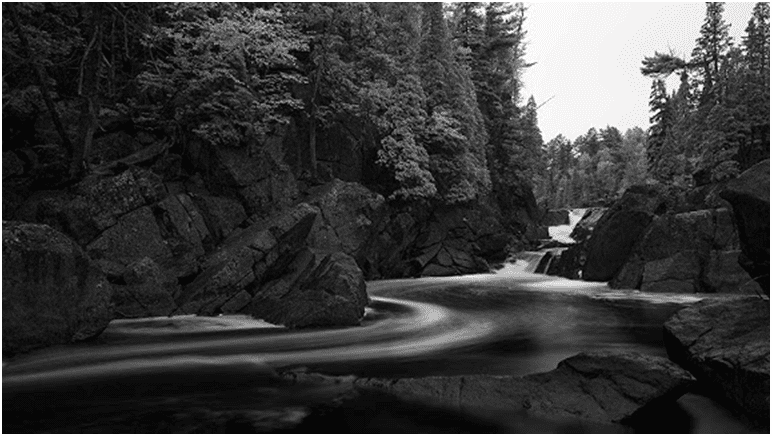 This next image was shot early this summer on the Beaver River, one of my favorite areas for shooting on the North Shore. There are three accessible stretches of water falls, all three are very different from each other. And each set changes character with the water level of the river. There is always a new composition to be found. In this image, I used just the 5-Stop Mor-Slo ND filter to soften the texture of the water and to work out the idea of dynamic lines.
The immense Lake Superior itself has its visual gifts and charms. No less than 6 rivers with dramatic waterfalls come down the hillside and flow into The Big Lake. This can make for outstanding landscape photography year round. There are severe storms and 12-foot surf that can make for dramatic shoreline shots. And on occasion, beautiful and dramatic clouds and light. The light on Lake Superior during the summer months is unique. The lake is extremely cold and will produce a variety of fog/humidity conditions that create some very pastel colors late in the day. Truly unique.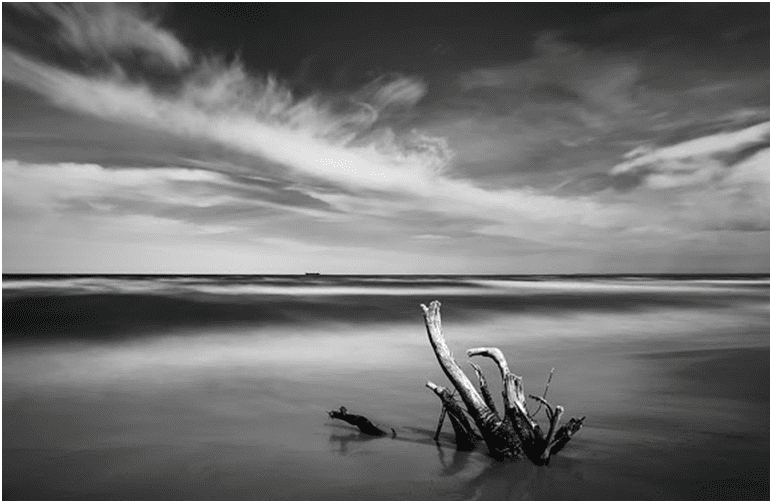 These next two Lake Superior images were shot in strong mid-day sunlight. Here is where I am really enjoying the Mor-Slo. I get no appreciable softening in the image and the color is very clean. This first image is from Park Point, in Duluth and you can see a 1,000-foot ore boat on the horizon. This was shot with the Gold-N- Blue at f/16, ISO100 and 1 minute of exposure in modest surf. The image is very simplified — a minimal number of subjects, using black and white to manage their relative weight in the image.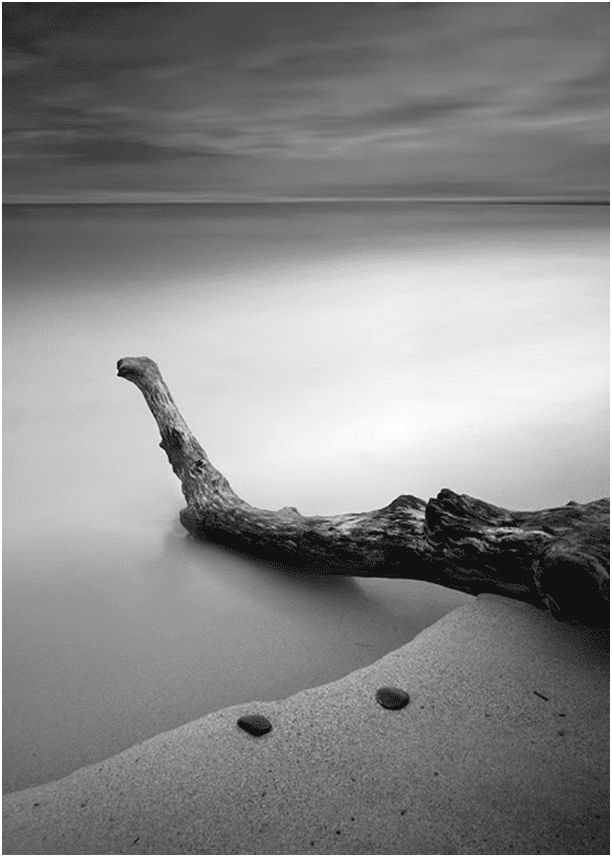 In this final image, I took simplification even further. Using a similar combination of filters, but with the addition of the Reverse ND 2-stop, again mid-day light and with the same camera settings as above. I like how a Reverse ND can create light in the foreground of the image, providing an almost surreal feeling of peace and simplicity.
The north shore of Lake Superior is my Las Vegas. I have to drive 3-5 hours to get to some of my favorite shots and, hence, I'm rolling the dice on weather conditions. Like my record with blackjack, I've lost the bet more often then I've won it. As a result, I found myself shooting in less than optimal conditions, instead having to make something out of nothing. Clouds, rain, fog — often days at a time — can dominate.
My shooting began to be formed around this constraint. I composed differently, exposed differently. I simplify my compositions, I see in black and white because the scenes can essentially be monochromatic. Black and white photography is a simplification process. That process has formed the style I intentionally shoot today. What allows me to shoot to this vision is heavy in-camera image control with my Singh-Ray filters. The color that comes out of the Gold-N-Blue filter allows me to create a rich tonality without introducing unwanted noise. It is all about the print for me these days. I like to minimize noise in my prints.
Alec Johnson is a commercial and fine art photographer based in Saint Paul, MN.
SaveSave