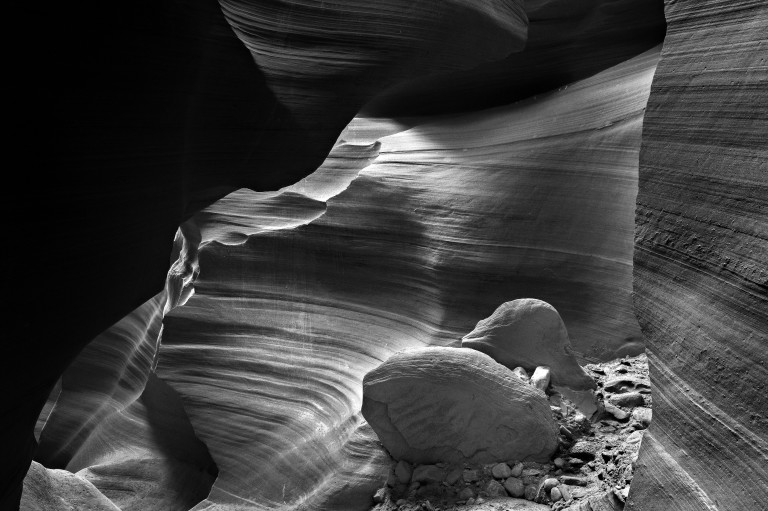 I remember years ago, after submitting images for an article, a phone call from my editor. "Please… no more slot canyon shots. Please…." I was disappointed, but I understood. For several years after the slots got "discovered" by people with their new DSLRs, slot canyon and desert southwest images were all over the internet.
That's when the handwriting was on the wall, from what I could see. Images that were previously inaccessible to all but the most dedicated photographers and requiring specific, finely honed skills, were becoming a matter of Googling locations and punching in GPS points. Exposure knowledge became adjusting exposures until the histogram was as good as possible.
Just to clear the air, this is not necessarily a bad thing. GPS points are good and helpful. Exposure by histogram adjustments is easier, although a little slower, than knowing and metering tonalities.
It is certainly valid to want to replicate great images. It's a way that we all learn. And it's certainly ok to stop there. A great many people are satisfied replicating great images. One of our jobs as workshop instructors is to get people to the right place at the right time and that certainly includes many iconic locations. However, as human beings, it's almost impossible to do exactly the same thing over and over again without beginning to stray in a more personal direction. The further one strays from what has been done, the more originality emerges.
How do we begin to move in a direction of more originality? More creativity. To stand out from the crowd.
It's important to realize that we are in a time when exceptional and even great images are expected and have become commonplace. One only has to troll through photo sharing sites to get a sense of how much incredible work is out there by a great many people. The secret weapon we all have is our imagination, aided by software tools to greatly modify our work, enabling us to create more personal and creative images, to stand apart from the crowd.
Here's an example: Mt. Kirkujfell in Iceland. I made this image three years ago after seeing this in a travel brochure and insisting that our workshop group go there.
Since that time, images of this great place have exploded in every quality of light, every season, all weather conditions, star trails, with aurora, and probably some with E.T., Elvis, and Big Foot in there!
There were dirt roads up to the top of the falls where one could camp, if desired. In the past few years, there is now a parking area for motor coaches and people walk almost non stop up to the falls, making it an exercise in patience to get a desired shot. Again, nothing wrong with this as it is merely a sign of the times, and the more people experience these places, the more likely they are to help to preserve them.
The test for us, is to find our voice in the sea of great photography.
Search for different angles, which is at times, easier said than done.
Use different lenses.
Use long exposures.
Learn how to use software to create what you feel or see in your imagination. 
Upon returning to Iceland in subsequent years, I did long exposures (1-4 min) from different angles, walking down to the various water levels.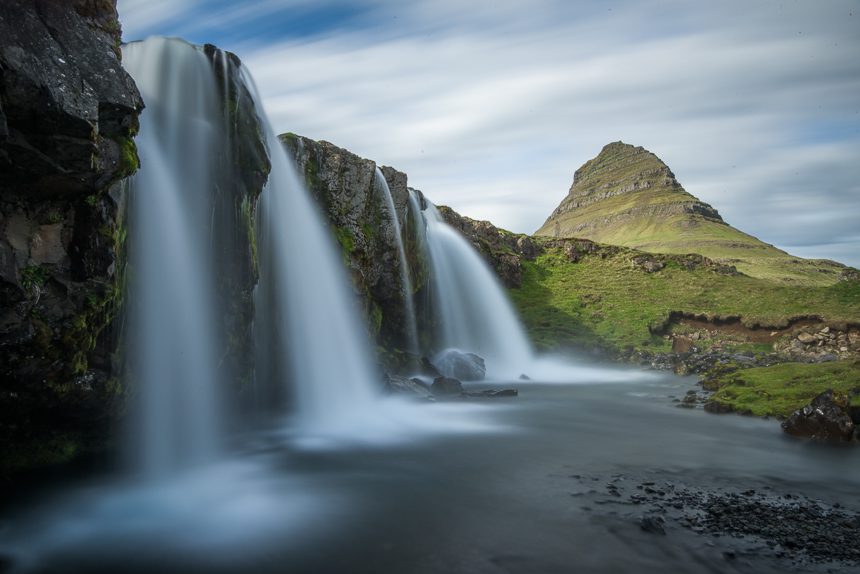 Then, from the same location a year earlier, I shot a six-image stitched pan.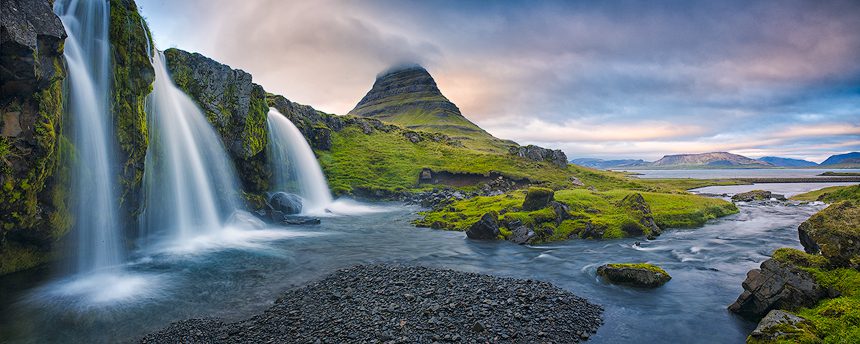 We will, of course, continue to take workshops to this great location, and will encourage and help our clients to see this incredible venue in a unique way.
The seeming unlimited number of great color images from the most exotic places on earth has moved me more and more into black and white interpretations. The expressive and creative opportunities are unlimited in B&W.
Here's the lead image original and re-imagined in B&W: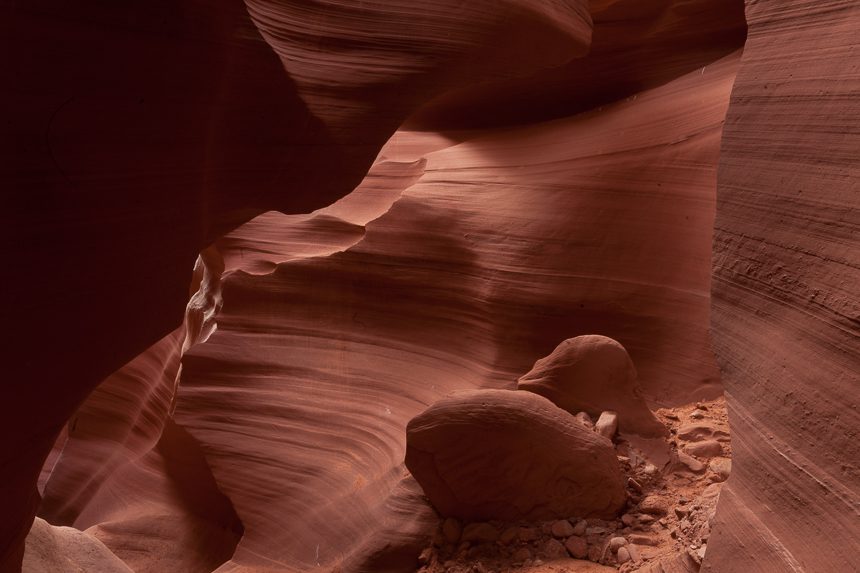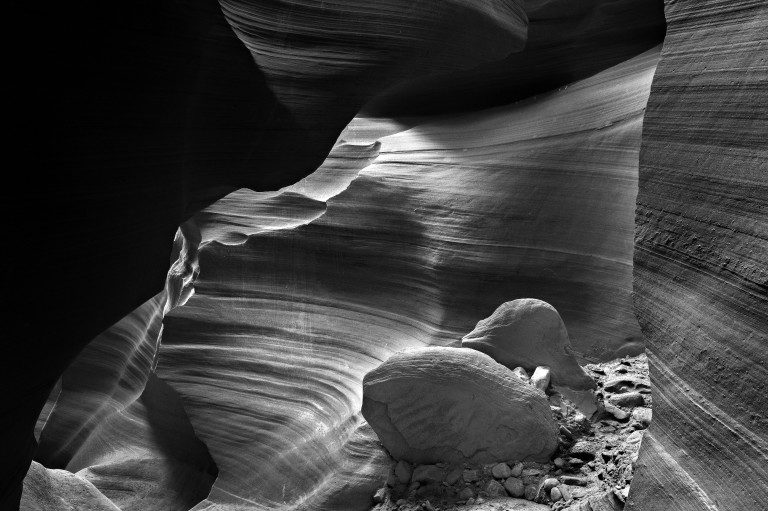 The Most Important Thing in photography is to enjoy the experience. A successful photograph is one that you like. There's always room to improve and everyone's aspirations are their own. Some people want to photograph Delicate Arch and some want to photograph Delicate Arch at night with an 8-hour star trail. It's all about what you like.
It's easy to get intimidated by the voluminous amount of spectacular photography online, but ultimately each of us only has one competitor, and that's ourselves. I just want to be better than I was last year. If your goal and your focus is to be a better photographer than you were a year ago, the amount of mind numbing great photography out there will not be intimidating in the least. It won't even be an issue.