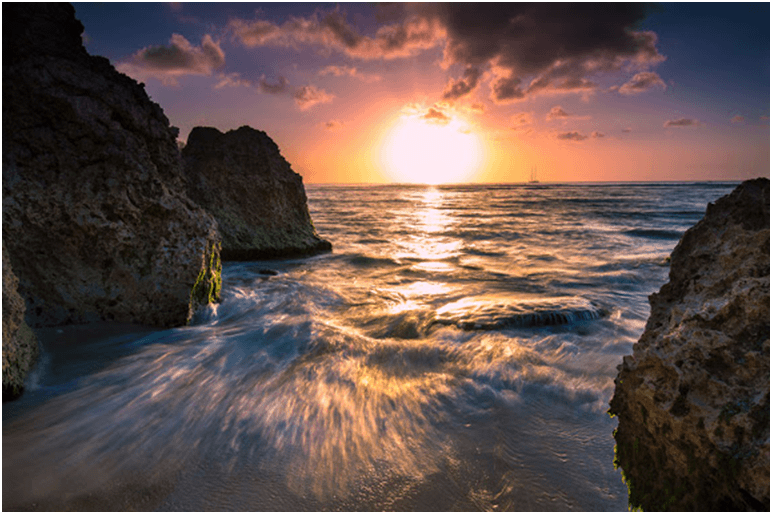 I figured there would be some great opportunities, though, in such a beautiful tropical setting. Although I spent a lot of time trying to decide what photo gear to take, my Singh-Ray Filters were at the top of every list I made.
While we were in Bali, there was a lot of entertainment activity going on. Surf company Rip Curl was there hosting the Rip Curl Cup at Padang Padang Beach; as excited as my kids were to surf, I was looking for something else. We did end up at Padang Padang for a day of surfing; the beach was pretty crowded for shooting landscapes. Earlier in the day I had located a spot to take some sunset photos. I found a great place that was framed in by rugged rocks. My brother-in-law and I got into positon early and were patiently waiting for the sun to make its way below the horizon. However, we ran into a problem with the rising tide. To get where we were during the lower tides the water was already waist deep. It was decided that it was time to get what I could and search for a safe way out.
The image above was shot using a Nikon D800, 16-35 f/4, Singh-Ray's LB Warming Polarizer, 3-stop Reverse Graduated ND, and 2-Stop Graduated ND filters. Camera settings were f/14, 1/4 sec, and ISO 50. The edge of the sun had just hit the horizon and the color was starting to explode, however losing my camera and lenses wasn't on the "to do" list, so we had to move quickly. Fortunately, having the filters I needed allowed me to capture this fantastic sunset. We did make it out just fine, we came across a couple of Aussie surfers who showed us a set of steps that lead back to the road. It was a true hike around sharp rocks and crashing waves that could easily sweep us off our feet, but we suffered no injuries to speak of.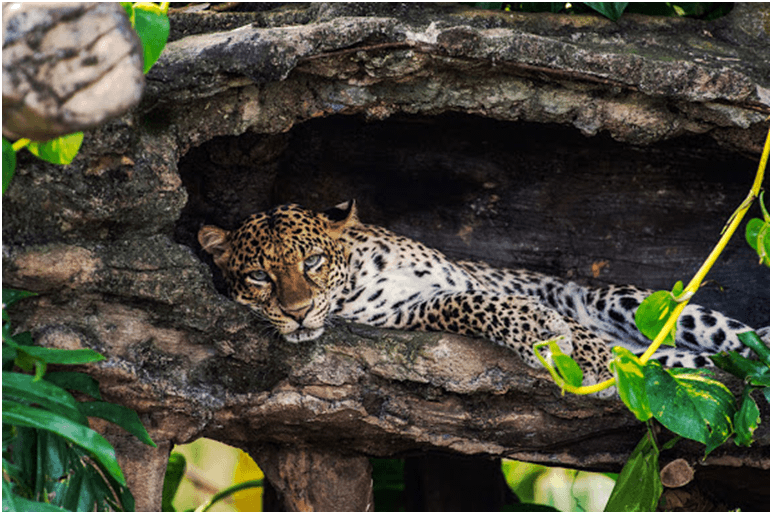 On a visit to a Bali Safari that focuses on conservation and education, we came to an exhibit that most people overlooked, because they weren't looking. What they missed was this leopard lying in a tree. I wasn't ready for this, but quickly switched lenses, grabbing my 70-200 plus 1.7x teleconverter, which was already fitted with a LB Warming Polarizer. The light was relatively flat that day but humid. The polarizer reduced any glare on the leaves and added just enough saturation to the leopard's fur. I sat patiently waiting, and then the leopard show its face and eyes looking right at us. Camera settings were f/5, 1/125 sec, and ISO 2800 on a D800.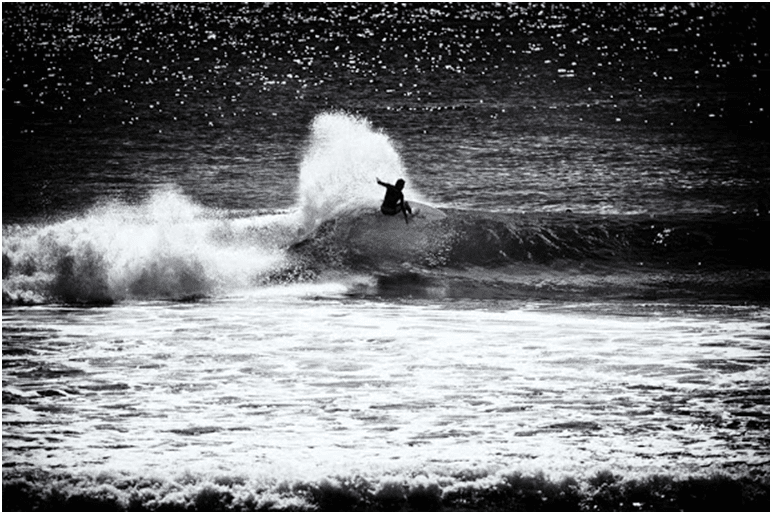 The LB Warming Polarizer is a must have for those of us who shoot landscapes, travel, and sports, and in this next image I used it again. I would never classify myself as a sports photog by any means. However, while we were at Suluban  Beach, one of the most famous surf beaches in all of Bali, I decided to try taking some images of surfers. However, getting to the surf spot is not an easy task. We had to traverse along a bluff, with several stairs. This image was shot with the intent of trying to capture such an awesome and difficult sport. There was a lot of haze and the color version of this is just not as compelling. The LB Warming Polarizer saturated the water and reduced the glare; the spray from the turn at the top of the wave, and the surfer's silhouette just made for a stunning black and white image.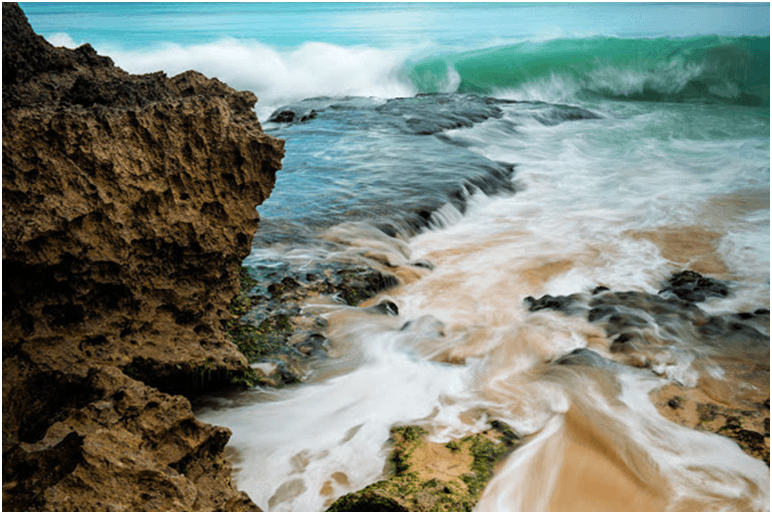 On several occasions I used my Vari-N-Duo, which has become a staple item in my bag. As mentioned before this was a family trip, not a landscape trip, meaning my shooting times were not always the best. The Vari-N-Duo can definitely help cope with these time-of-day challenges. There's so much in this image: the barreling wave ready to crash on the rugged rock that lines the shore, the rushing water that's sucked back out to sea, the vibrant colors of the sun-lit waves, the sand, vegetation on the rocks, the mini falls created as the water races back out to sea. The Vari-N-Duo made this shot possible. I could see the shot, knew where I needed to be with my shutter speed, and knew that the combinaton of neutral density and warming polarizer would work perfectly. This image was shot at Dreamland Beach, with a D800, 24-70, at f/14, 1/4 sec, ISO 200.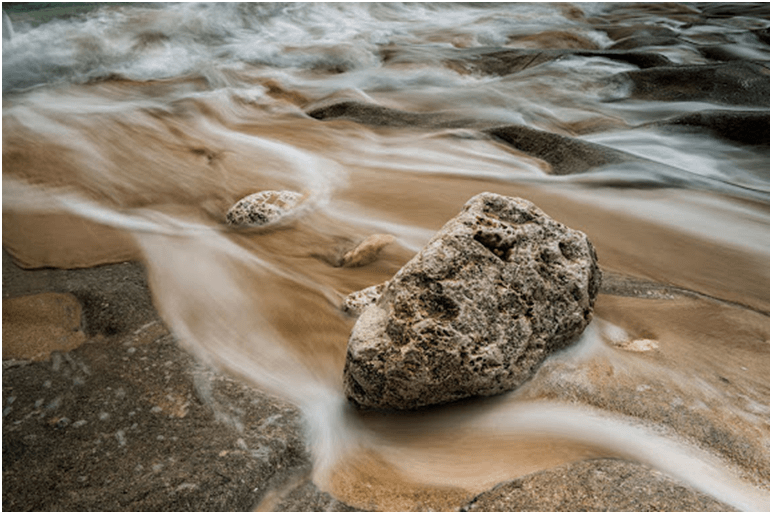 At Balangan Beach, the Vari-N-Duo prevailed again. There were several tidal pools I was hoping to capture, but due to the tide that wouldn't happen. I came across this fossil looking boulder. I watched as the waves crashed against it then the water raced back down the beach. I composed my shot, dialed the Vari-N-Duo polarizer to reduce the glare on the rocks and then set the neutral density to achieve a shutter speed of 1/4 sec. to blur the racing water. The Duo did just what I wanted.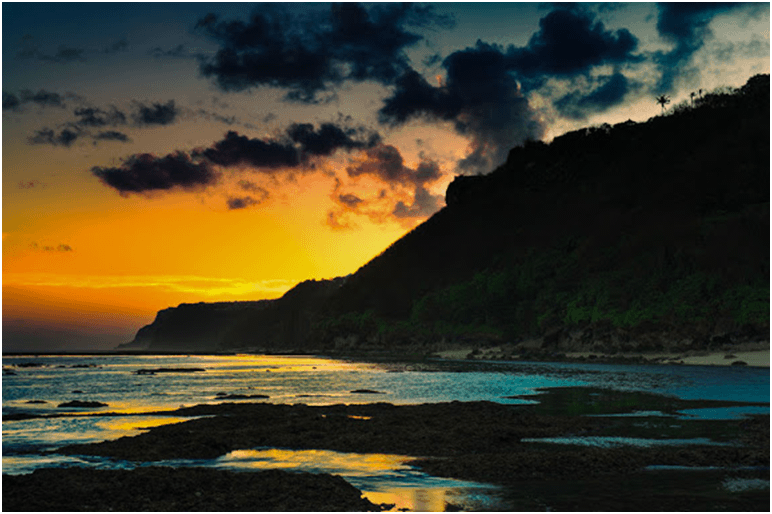 These last two images were both shot at Green Bowl Beach, the southernmost beach in Bali. I figured I would try both a sunrise and sunset. The sunset was a bit behind the cliff, and while it still produced very nice display of color, I was looking for a bit more. This sunset was shot at low tide. I was a good 150 yards off the shore standing on the reef trying to get a better position. Here I used a LB Warming Polarizer combined with a 3-stop Reverse ND Grad and 2-stop ND Grad. This turned out to be a great combination to bring out that warm saturated sky while also balancing the exposure.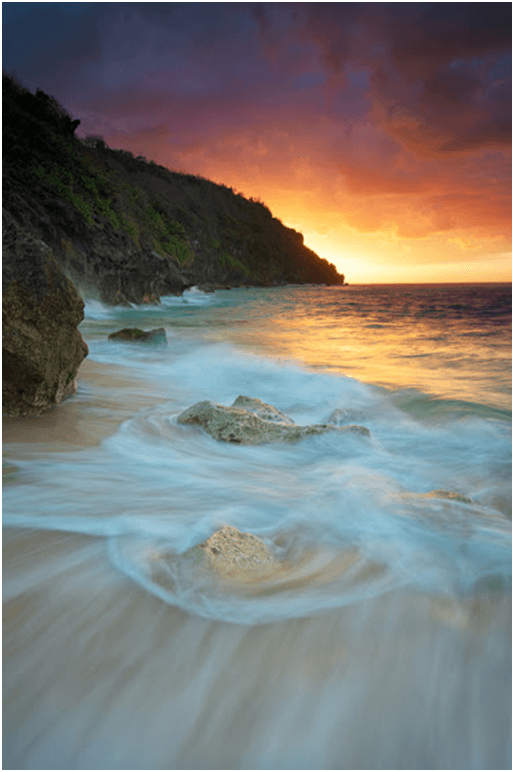 Finally, my favorite image from the trip is this one from Green Bowl Beach. To get down the beach, I had to descend 325 steps. On this morning, my brother-in-law picked me up an hour before actual sunrise, which gave me enough time to take a look around using a headlamp in hopes of finding a spot to shoot. It rained a bit on the way here and things didn't look very promising after the predawn light started to show those storm filled skies. But as the sun neared the horizon, a flash of color and radiance showed and we grabbed it. I could say I wanted a bit slower shutter speed here to capture the motion blur of the water, but more for when the waves washed back out to sea. Here I used an LB Warming Polarizer and 3-stop Reverse GND filters. Camera settings were D800 at f/11, 1/8 sec, ISO 100, with a 16-35 f/4 lens. There are several elements in this photo that get it done for me: the waves washing back out to sea, the saturated sky, and the motion of the water.