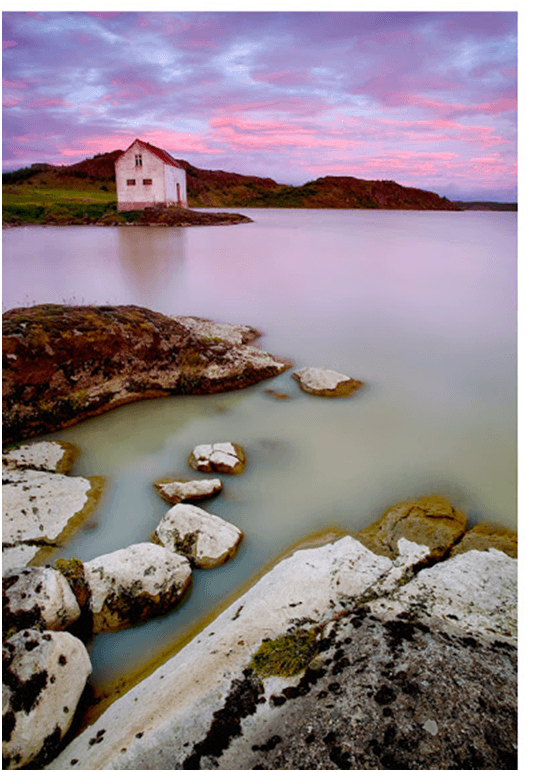 As I prepare for my fourth trip to Iceland — the third time I will be serving as a guide for other photographers — I've given a lot of thought to what I've learned to this point. I can also draw upon my previous experience leading workshops to almost every corner of this country. I've spent some time considering how I might improve on the way I shot these locations before, and how I'll guide the other photographers to do the same.
Iceland is beyond amazing. Just seeing it in person can overwhelm new visitors. Then trying to stay focused and get the best shots is often a daunting task. I've had to learn the importance of being patient to learn how the light works, where the best places to shoot are, and how to scout for new locations as well.
I instruct photographers to shoot the same way I do, and that means using the tools I use — including Singh-Ray filters — to capture the best images in the camera. I've been in the shoes of most new visitors… I know what it's like to freak out behind a camera. I can be that voice of reason to help people tune into the location, and get those winning images.
When I first went to Iceland in 2010, it was the realization of a lifelong dream. Really, I thought it would never happen… but a lot of pieces fell into place, and professionally I finally found myself with the ability and means to make the journey. That first journey was challenging not only physically and logistically, but also photographically. Now as I sit on the cusp of making my fourth trip to this wonderful country, I've started to take a look back at what I've learned photographically from each trip.
The first trip was overwhelming in so many ways. I had a long list of places I wanted to see and photograph during my three months, but I also left time in my schedule for the unexpected to find my own spots. I also did not have a car. Everything I did required a tremendous amount of planning, and always a little luck.
Did I need to take a bus, or would I be able to hitchhike and get there? Could I stay in my tent, or was it time to find a shower and hostel? Could I afford a meal out, or did I have to eat ramen again? Each day had a big 'to do' list, before I could even think about the photography part.
Once I got to new locations, there was always an adjustment phase. I was THERE, instead of looking at maps and other people's photos. It is different seeing it in person, and trying to plan the shoot. Every place I found I was not only overwhelmed by the sheer beauty of the location, but also on how to shoot it in my own way. Then there was the weather. It seemed to rain on me most of the first two weeks. There were times I wondered if the sun ever shone on the country… It was thirteen days in country before I got my first amazing sunset — and man, the LIGHT. That light can intimidate a photographer at first.
The sun never sets during the summer, and when the light is good, it seems to never end. During my first trip, I was not prepared for sunset/sunrises that lasted for four hours.
There were many times in the beginning that I would panic, and run around frantically trying to compose shots and make them work; thinking that the light was about to fade at any second. It never did. I would always end those first nights exhausted from all the energy physically trying to get from spot to spot — and mentally trying to come up with multiple compositions. A night that had begun with triumphant whoops of joy, always ended with me sopped in sweat and exhausted in my tent.
By the middle of that first trip, I knew the climate and way the light worked. I had learned to relax a little and focus on making better images. I was more focused on quality over quantity. However, with four-hour sunsets, you certainly get quantity, too.
That first trip I was by myself, and photography was the sole purpose of the trip… by the fourth week I was in a different mindset. When the only goal each day is to get to a new location and photograph, your mind starts to work in a more efficient way creatively. I was on foot so there were numerous days where I found myself in locations I had not previously scouted, and knew nothing about and was forced to find the spots to shoot, and then make them work. The day-in and day-out shooting made that process much easier. I also knew that the tools in my bag would be helping me achieve the results I wanted in-camera. Having the Singh-Ray Graduated ND filters and Vari-N-Duo along helped me achieve what I visualized in my mind… that is so valuable for photographers. We work years to develop our vision, and when it's dialed in the way it was for me during my time in Iceland, the last thing I want is to have vision limited by gear. Filters really help me put what I see in my head into what I get with my camera.
The first image (at top) is a shot from a lake in Eastern Iceland. I found myself there for an unplanned evening, and of course, the sunset was fantastic. I walked the edge of this lake looking for compositions and places of interest. I found this abandoned building, and decided to use it in my compositions. I used the 3-stop soft-step Singh-Ray ND Grad to hold back light on the top, and give me a balanced exposure all around.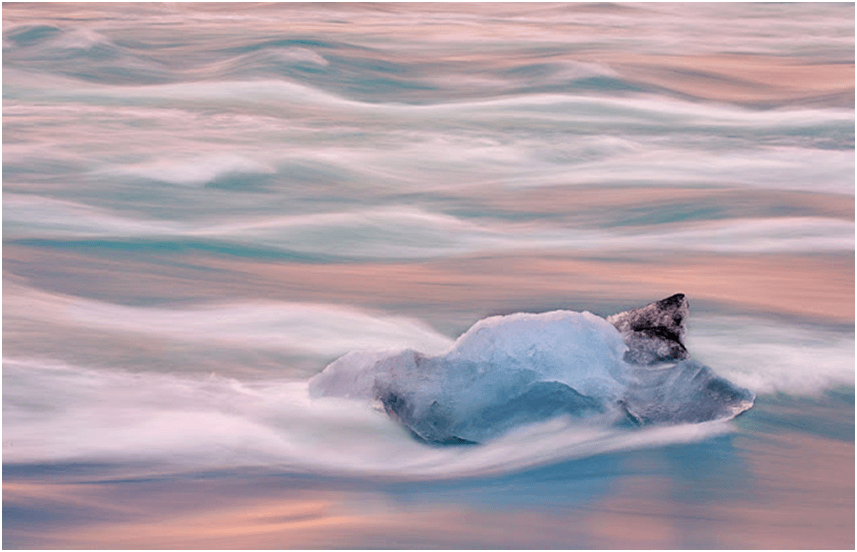 This next exposure was from the outlet stream at the popular Jokulsarlon glacier lagoon. I had been to this location several times, which involved hitchhiking, buses, rogue camping, and other trials. This particular evening I had gotten to the lagoon and found relatively uninteresting conditions on the beach, and the sky above the lagoon was not working well either. The only color was directly overhead. I found this chunk of ice lodged in the stream, and I used the Vari-N-Duo to give me some polarization to bring out that color from the sky. It also give me a slightly longer exposure time. It's not your typical image from this location, but one I found I was able to make because of the tools I had at my disposal.
The second trip was different in that I was there for a shorter length of time. I knew the area well, and this time I was traveling with a friend, and we had a vehicle at our disposal. Having a vehicle made a lot of difference in the images I was able to make. I knew how the light worked now, so gone were the days of running around like a crazy person and trying to find as many compositions as I could in an unknown window of time. We could arrive on location, make the images, and then drive to somewhere else. Driving allowed me to cover much more ground and shoot entirely different locations during the same lightshow. Having a car allowed me to cover almost the same amount of ground in 2 weeks, that I had in 3 months.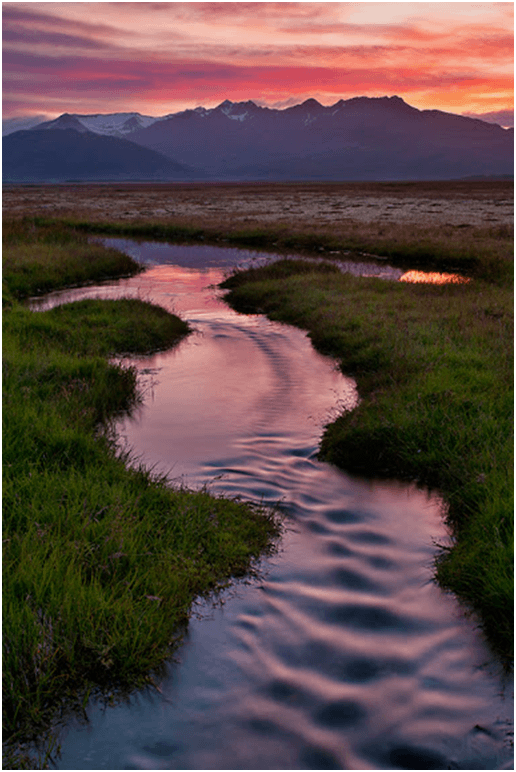 The third shot is one I made literally on the side of the road. I went into this little field, and in Iceland it seems like every field has some kind of water feature… sometimes it's only a matter of finding it. I found these little streams cutting through the area, and used them as leading lines in the image. I used a Singh-Ray 4-stop soft-step ND Grad to help hold the bright sky back, and give exposure to the foreground. I combined it with the Singh-Ray LB Warming Polarizer to help bring out the reflected color in the water…and give the colors in the sunrise a nice warmth.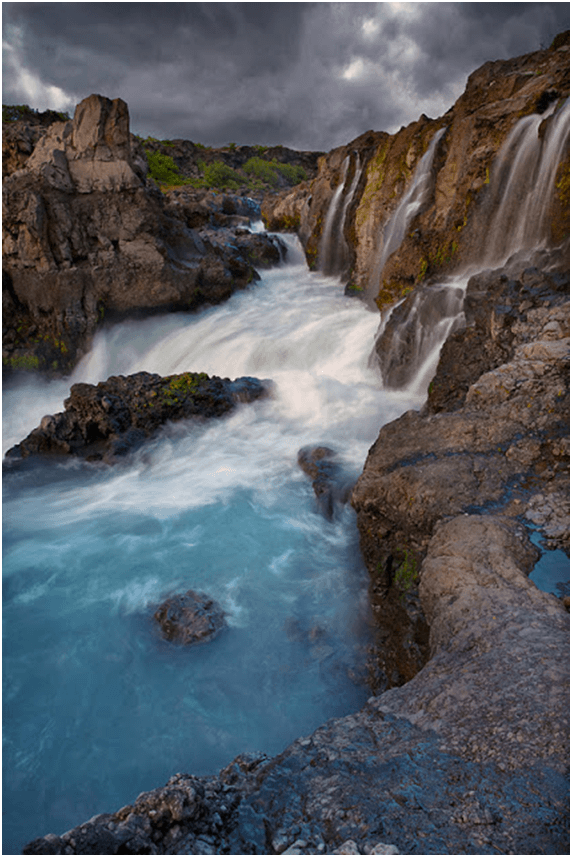 The fourth shot was from a little out-of-the-way waterfall that I wouldn't have been able to photograph during my first trip, due to the logistical issues. However, on this trip it was little more than a pit stop during a busy evening of shooting. We didn't have the color in the sky to make for a vibrant sunset, but the ice blue of the water is so stunning, and even with stormy grey skies, you can get some nice shots. I used the LB Warming Polarizer to cut the glare of the rocks, and also to give me a little bit of the warmer tones the volcanic rocks had.

Covering that much ground in such a short period of time was hard work. There was a lot of shooting put into each day. Every day was a routine of shoot all night then drive to the next spot. Sleep the remaining hours of afternoon, eat dinner and shoot the whole night. We had no bad weather, so this was how we approached every day, and by the end of those two weeks, I was exhausted, but it proved to be good training for the next year.
The third trip, I was conducting a workshop for a bunch of great photographers from all over the world. I put all the lessons I learned in the first trip's into planning this one. I still navigated the entire country in the course of 11 days, but we stopped for longer stretches in the north, and in the west to allow for more periods of rest. I had a whole year of planning to find new spots, and make a route that was packed with excitement, but also allowed down time.
That being said, for some of the photographers the eleven-day workshop was more photography than they had ever been exposed to in their lives during such a condensed period. Many photographers I know are recreational in nature, they love to shoot and go out and make new images, but a typical shoot for them might be a day, or weekend at most. Nobody knows quite how to handle an 11-day sojourn in a country with sunsets that last for 5 hours. It was a lot of fun to see my group try to deal with these long sunsets, even though I had warned them.
The first few times we saw the epic light in the sky the group would beg me to pull over. 'Pull over, look at that light!!!' Even though I tried to tell them, it would still be there when we got to the spot I had in mind, there were several times I pulled over so they could take shots of the road…or whatever they found near the van. The light was still there when we got to the spots I had in mind. It's hard to train your brain to go slow, and take it easy. Everyone is always in a panicked hurry thinking the light is almost done. It takes time to get used to truly epic light. It was my third time and I still had to tell myself to slow down.
In addition to some really great conditions at some really great places, we had a lot of people who were using their Singh-Ray filters on our classes, and it's nice to have that experience with the filters to show the others how to use them, and when to use them.

The fifth image was taken at the mighty Godafoss… it's such an amazing place to see, the water is that special glacial blue and as one of the iconic locations in the country, it's always special to be there and see it for oneself. I encouraged the class here to use their polarizers to get the reflected color from the sky and reduce the glare. I used the Singh-Ray Warming Polarizer to help give the sky a little extra umpf to the gold tones. I also used my Singh-Ray 3-stop soft-step ND Grad to hold back the brighter sky.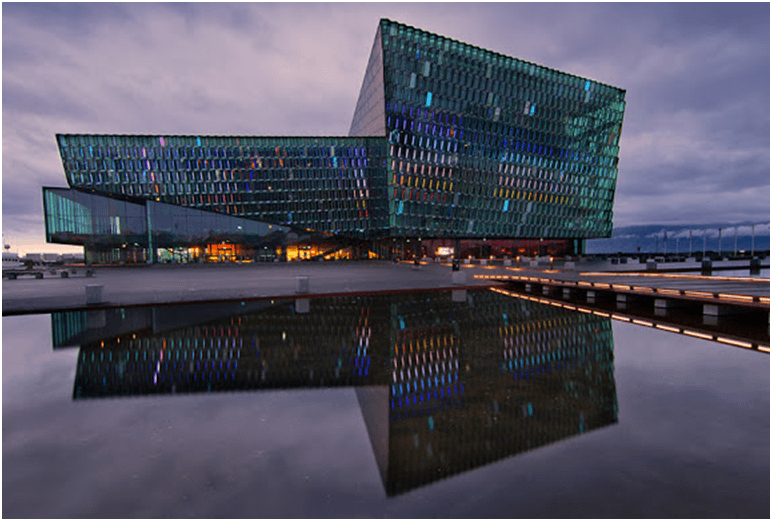 This final image was a shot I couldn't have made on my first or second trip. The new event center and concert hall in downtown Reykjavik was not finished yet. I had been watching the construction on it for a couple of years, and was eager to get to a point where I could finally photograph it. The last night in Reykjavik we had a chance to go out and explore downtown Reykjavik at 2 in the morning before my group went to grab a little shut-eye and catch their flights home.
I used the Warming Polarizer here to get the reflections in the water features out in front of the building. The light otherwise was quite even, so I didn't need to use any of the graduated filters. I also wanted to get a faster shutter speed to capture the cool LED effects on the light display. I'm not typically one to shoot much in the way of architecture, but when the building is as nice as this one, I can't resist. I use the same techniques I use with landscape when I'm shooting a building. I look for strong leading lines, foregrounds, and try to use filters in the same way.
Brian Rueb is a professional photographer living in Northern California. When not photographing, he spends time parenting his two boys, and enjoying the company of his supportive wife. In addition to traveling and shooting as often as he can, he is the lead instructor for the Aperture Academy, in San Jose California where he teaches between 35-40 workshops a year, including trips to Iceland.