I love to show other folks what I think is available to see and visit without straining their budget or their back. Born and raised in Ohio, I have long since adopted the life we photographers have in Colorado and the American West. For the many photographers who don't live out here, however, I would advise you to come visit us soon. Bring your camera, a sturdy tripod and all your filters. The photos I'm including here are intended to show the wide range of impressive scenery and geologic wonders that await you.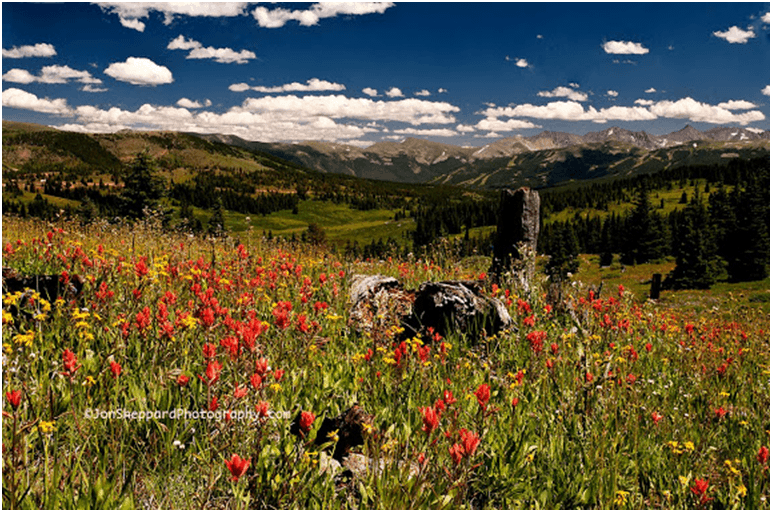 And the best part is the easy accessibility of these experiences to everyone — even those who can't hike for miles, climb up a mountain, or buy a four wheeler. Anyone who can drive or ride in a car will have plenty to see and photograph. For example, above Vail Pass and just off of I-70 is one of the most beautiful summer areas in central Colorado. This first image was taken on Shrine Pass with the Copper Mountain ski area visible in the distant background. The month of July offers totally super photography and the access hiking trails into the area are so easy — even for non-hikers — to follow. To start with, you are at an elevation of over 10,000 feet, so be prepared with water, snacks, weather-related clothing and a big happy smile in your heart. I used a wide angle lens here with the LB Warming Polarizer, which is my main filter for the great out west. As with all polarizers you'll get your best results when you're able to keep the sun's axis at a 90-degree angle to the subject you're shooting.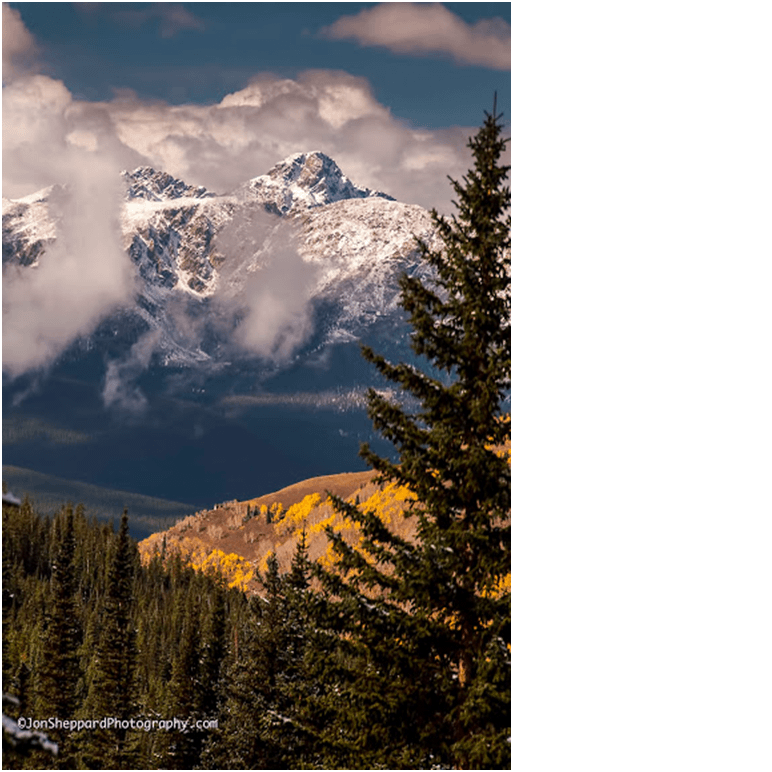 Fall colors in the Colorado high country make for super beautiful photography. Here I am using the LB Warming Polarizer with a most spectacular view of Mt. of the Holy Cross. Again, with the sun to my left, this is a mid morning shot. This mountain stands at 14,005 feet and is an expert-only type of climb. From this vantage point, however, I am on the West side of Shrine Pass at a designated handicapped viewing point. Amongst the clouds in the foreground is Notch Mountain at over 13,000 feet. During the summer it is a wonderful hike to the summit with a view looking right into Holy Cross Mt. You can get hiking information from the U.S. Forest Service right off I- 70 going to Minturn.
In addition to scenic beauty in every direction, our American West also offers impressive examples of unique geology and our nation's early history. The former gold-mining town of St. Elmo (image below) is on the National Record of historical mining places. This tiny town also offers travelers a bit of family adventure. It is an easy drive right out of the Arkansas River Valley and on past the Mt. Princeton Hot Springs spa and resort. So enjoy the drive up as you pass between two 14,000-foot mountains — Mt. Princeton to the North and Mt. Antero to the South. During the summer, the country store is open to get snacks, souvenirs and — most definitely — chipmunk food for the hundreds of beautiful little critters that bounce all over you as they strive to get the sunflower seeds from your hand. And be sure to photograph them too. Since the street runs East and West, early mid morning and mid afternoon are both excellent times for the sun's position. I love to use my LB Warming Polarizer to super pop the sky and the town's pioneer structures as well. Did I mention that the drive to St. Elmo through the San Isabel National Forest is gorgeous any time of year?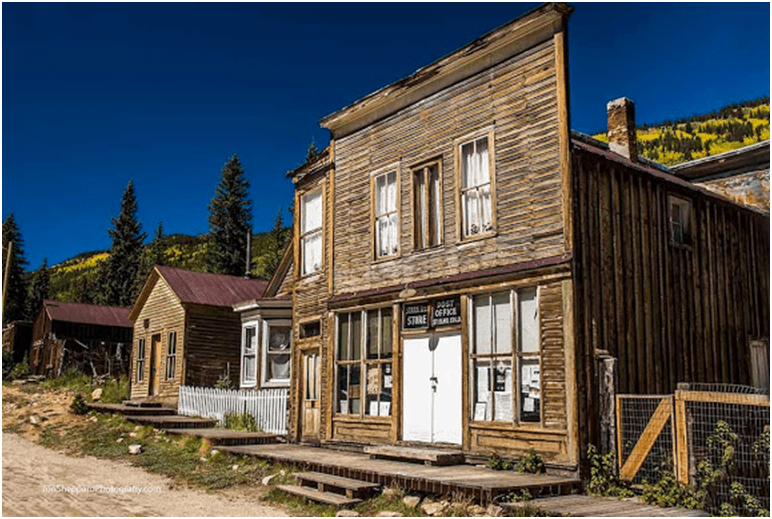 I should add that the San Juan Mountains of SW Colorado — seen below — also offer totally fantastic opportunities for photographers. During summer and fall, an intrepid photographer who ventures into the high old mining areas will find many superb views.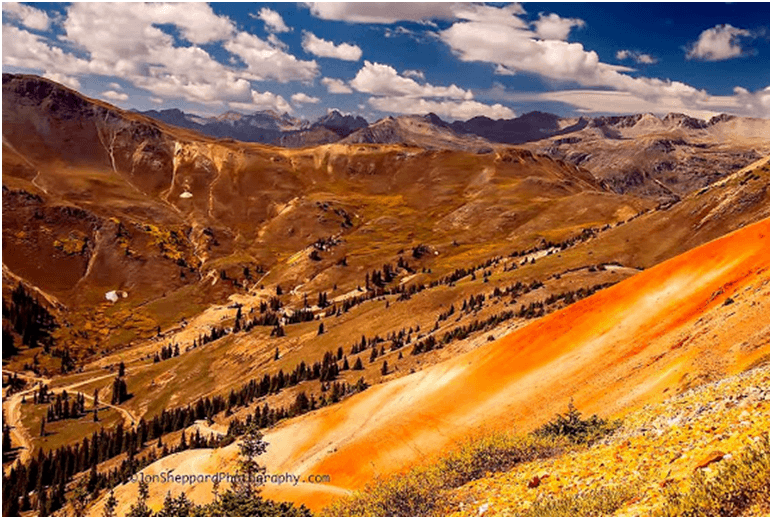 Terrain like this would likely call for a 4-wheel drive vehicle, a good guidebook, and someone who knows the area first-hand. To take the image below, I am well above 12,000 plus feet shooting Westerly with my trusty LB Warming Polarizer doing its thing. Again, this is a mid morning shot.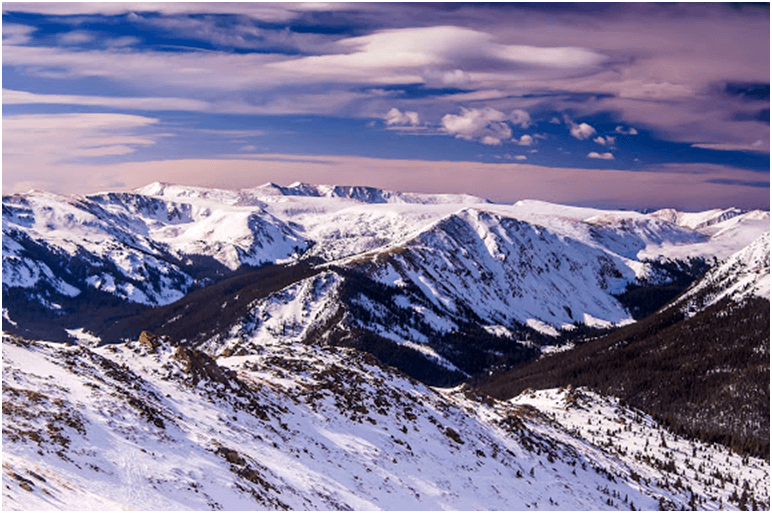 Here in the Colorado high country and above 12,000 feet, the LB Warming Polarizer is an absolute must have. This was taken in May, which is a good time of year for great lighting from the sun and longer daylight hours for either early morning or late-in-the-day shooting. For this shot I only 'walked' about 90 feet from the ski lift at Arapahoe Basin Ski area. The entire Loveland Pass on U.S. 6 and just off Eisenhower tunnel on I-70 is easily accessible, and from there you can hike wherever you wish to find more impressive mountain views.
All these shots were taken with just the LB Warming Polarizer, although I am also a big fan of the Singh-Ray LB ColorCombo, which combines the Warming Polarizer with the Singh-Ray LB Color Intensifier in one easy-to-use filter. Out here in the great American West, one or the other of these two Polarizers is an absolute must. I use them both and they have been helping me improve my images for many years. I never leave home without both."
Jon Sheppard has always been attracted to the outdoors. The author of three award-winning books, Jon says his move to the American West has helped to develop a keener eye for the glorious images awaiting all of us.