Photographers now have more powerful tools available to them than ever before. Exciting new sensor technologies already up to 50+ megapixels. Lenses that can resolve the finest detail. Huge advances in the digital darkroom, such as the ability to easily blend multiple images using luminosity masks.
With all these advances, where do filters fit in? In my photo tours and workshops I often hear "I can do that later in Photoshop." Photoshop is certainly a powerful tool, but it can't do everything… yet! so, filters remain a very important part of my photography, as they do for many other pros. I need to control light and filters do that for me, so I carry an extensive selection with me wherever I go. I recently had a client tell me that he can achieve the effects of a polarizing filter in post processing. Not so!
Many photographers have bought into the idea that post-processing is where the image is really made. It's my opinion that the image starts inside of us. Ansel Adams consistently taught the importance of pre-visualization.
When I decide to stop and photograph a scene, I'm pre-visualizing the final image before I ever trip the shutter. Once I have the image in my mind's eye, I begin the process of making the image and that almost always includes the use of filters. High contrast scenes need balance to preserve highlight and shadow detail. Forest scenes after a rain shower need reflection and glare on leaves and vegetation controlled. A long exposure for river and streams creates a silky smooth effect that adds visual impact. All of these scenarios are achieved with filters and cannot be duplicated with software in most cases. The following images were all produced using Singh-Ray filters.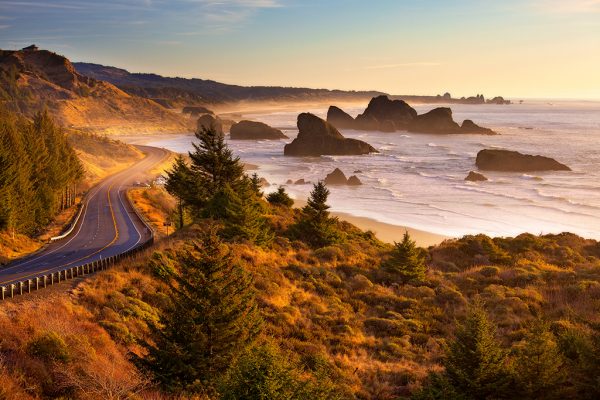 This scene of sea stacks near Port Orford, Oregon had some tricky lighting that needed to be reined in. The intense light from the setting sun created a very bright sky. I also wanted to preserve as much shadow detail as possible in the sea stacks. Our cameras don't know our creative intent. A camera meters the light and tries its best to achieve an acceptable exposure, but most of the time shadows or highlights suffer. And a camera still can't record the entire dynamic range of many scenes. Learning your camera's limitations, and finding ways to manage them, are all part of the creative process. Here I used a 3-stop Soft-step Galen Rowell Graduated Neutral Density Filter, hand held, positioned over the bright sky to accurately balance the exposure in camera.
When I hand hold my filters, I try not to touch the lens during the exposure and also move the filter subtly up and down to better blend the transition point of the filter's effect. I know some folks think the same effect can be achieved in Photoshop and to a certain degree they are correct, but applying a graduated neutral density filter in post-processing alters pixels and often introduces noise to the image. A Singh-Ray GND filter is truly color neutral and won't degrade image quality. I always try to get the image right in the field, so I can minimize my post-processing time. I'd rather be out shooting!
A little planning and thoughtful execution in the field goes a long way in making an amazing image. I strongly recommend, if you don't already have any graduated neutral density filters, that you start by purchasing a 3-stop hard and a 3-stop soft, a density I find myself needing most often to capture complete dynamic range.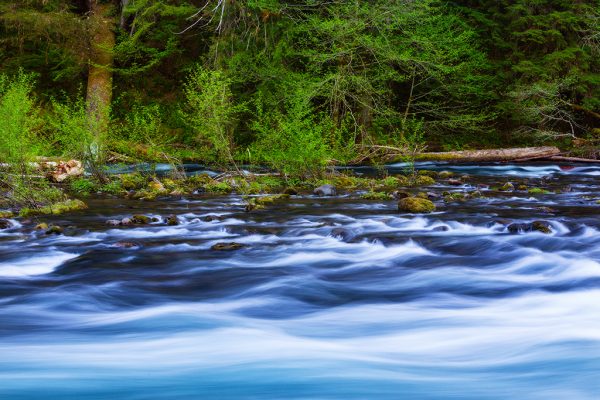 I can't stress enough the importance of a quality polarizing filter. It is the single most important filter in my bag. A polarizing filter cuts down reflections, saturates colors and makes clouds pop. This image of the McKenzie River in Oregon is just the type of scene I use a polarizing filter on. My polarizing filter did two things to this image. The first thing was cut the reflection from the water's surface and the surrounding vegetation. The second thing it did was add a bit of color saturation to the image. You could certainly add saturation in post processing, but a polarizing filters gives your colors a pop without altering the pixels like post-processing does and it looks more natural.
One thing you definitely can't do in post processing is remove glare. The filter for this image removed the glare from the water's surface, revealing more detail and clarity in the water. It also added some pop to the rocks, so that they stand out better. Had I not had my polarizing filter, this image would have been impossible to achieve. Singh-Ray makes excellent polarizing filters that meet or exceed the optical performance of your lenses and are truly color neutral. The thin ring type has no front filter threads, reducing the possibility of vignetting when using wide angle lenses. From my experience, regardless of which type you prefer, a Singh-Ray polarizing filter should in your bag. You won't regret it!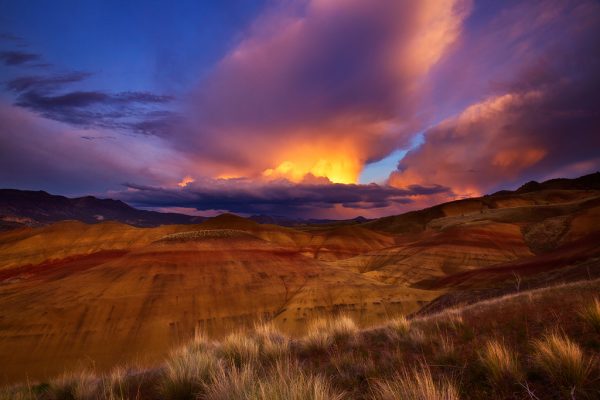 This image of a fast-approaching thunderstorm over the Painted Hills Unit of John Day Fossil Beds National Monument was one of those "once in a lifetime" moments! The conditions were just right for stormy weather, but I had no idea what was brewing. With scenes like this, you need to be able to move fast, because the light is constantly changing. I needed to compress the scene in order to capture both highlight and shadow details. One approach is to make a series of images from light to dark and blend them later during post-processing, but this scene was in constant motion and aligning images in post-processing would take considerable time. The majority of my images are single exposure captures, as this was, thanks to a Singh-Ray 3-stop Soft-step Rowell Grad to tame the bright sky and allow the foreground to be properly exposed. As I normally do, I hand held the filter and moved it slightly up and down during the exposure to help blend the transition of the filter's effect.
Photographers invest thousands of dollars in cameras and lenses, but often use inferior quality filters, which I see all the time in my photo tours. To me, it makes no sense to buy the highest-quality lenses, only to use an inferior filter that degrades your image quality. That's why the majority of my images are created using Singh-Ray's filters, which, in my opinion, are simply the best out there. They are more expensive then many other filter makers, but the old saying "you get what you pay for" certainly applies when comparing them to other options. And each one is produced in the U.S., by hand.