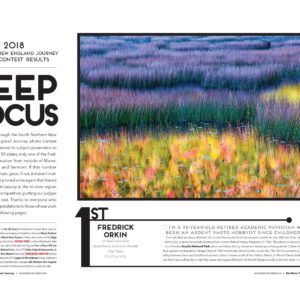 Singh-Ray Friends,
As you records should indicate, I've been a loyal customer for more than a couple of decades. I enjoy using several of your fine filters – Color Combo Polarizer, Color Intensifier, Warming Polarizer, Variable ND Duo, & several Galen Rowell ND grads – & thought I'd share with you one image that benefited from one of your filters – & even won a prize!
The attached image of 'The Tarn' in Acadia Nat'l Park was captured in mid-Oct 2017 with a Fujifilm X-T2 camera with their 16-55mm f/2.8 lens (ISO 800, f/16, 1/15 sec, 0 compensation) with a Singh-Ray Color Combo Polarizing Filter.
I submitted the image to a photo contest sponsored by the AAA's Northern New England Journey magazine, & the image won 1st prize, as described in the attached 2-page coverage from their magazine's Nov-Dec 2018 issue.
We should BOTH keep up the great work! Best wishes.
Fred Orkin
Fred O.