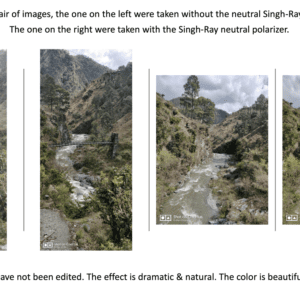 I just used the neutral polarizer for mobile phones. It is absolutely fantastic.
The effect is subtle when used to darken skies, and this is very good. Some polarizers leave weird halos.
However, the real magic can be experienced when photographing water. When I was up in the hills of India (Bhimtal), I used this to shoot the mountain stream, and the effect was dramatic.
Colours are reproduced perfectly. The filter does not modify the natural colours of nature.
The build of the filter is really good, and sturdy. This is an excellent choice for anyone who wants to do mobile phone photography.
Rajiv Chopra