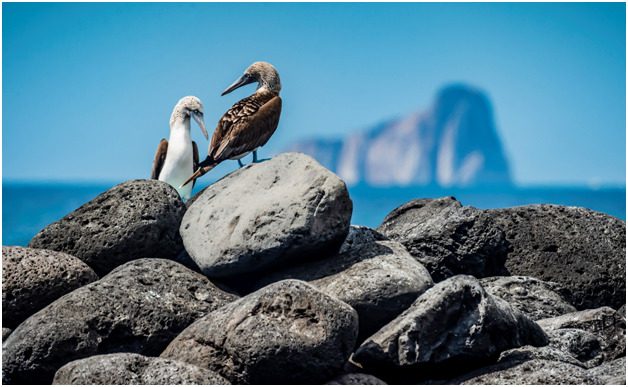 The Galapagos Islands, an exotic collection of mostly volcanic islands that seem to be stopped in time. They are a destination on most if not all photographers' bucket lists, they were on mine.
So, after shifting into a new phase of my career after spending almost 25 years at Sports Illustrated, when I was presented with the opportunity to travel to the Galapagos to help scout and develop a future photo expedition for Guy Harvey Outpost, I jumped at the chance.
Since my first trip there, I've returned four more times to lead small groups of eight aspiring or in some cases, tremendously accomplished photographers, on a land-based photo safari. We base out of San Cristobal, one of the populated islands in the Galapagos, and make day trips by boat to different islands—Santa Cruz, Espanola, Punta Pitt and Isla Lobos—each day.
On my last trip while walking the rocky shores of Isla Lobos I spotted 2 Blue Footed Boobies with the iconic Kicker Rock in the background, with a Nikon D4s mounted with a Nikon 80-400mm lens fitted with a Singh-Ray LB Color Combo Polarizer, I found a composition I liked.
In the Galapagos we can't always control the time of day we can visit the various islands so at times we have a high sky, so my Singh-Ray polarizing filter was exactly what the situation called for. This filter helped me tame the highlights on the water and rocks while adding some overall saturation.
The Galapagos Islands is one of the best locations in the world for wildlife photographers partly because, as Charles Darwin discovered nearly 200 years ago when he obsessed over his finches.
Some of the species that live there exist nowhere else in the world, plus, the creatures there remain unafraid of humans and are more relaxed because they have no natural predators. They seem to know they're being photographed—the giant tortoises, huge land iguanas and blue-footed boobies hold still and pose as if on cue. The Galapagos is truly a one of kind trip where you'll make unforgettable photos, so the times when the light might not always be to your liking the Singh-Ray Polarizer will be just want you'll need.
Ronald C. Modra