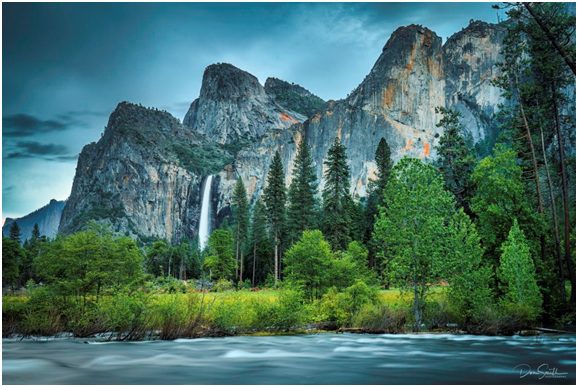 Valley View, Merced River and Bridalveil Fall, Yosemite Valley, Yosemite National Park, California.
Sony a7RIII, Sony 24-105mm, f/16, 30 sec., ISO 100, Singh-Ray Vari-N-Trio
Recently in past weeks, good friends Ron Modra and his wife MB came out to California for a visit. On Wednesday, I drove them to Yosemite National Parkand met up with another good friend/photographer Gary Hart.
Fortunately for us, Glacier Point Road had just opened. We were treated to a thunderstorm sky and had a great day showing them some of the best Yosemite had to offer.
Towards the end of the day we found ourselves at the famed Valley View location where the iconic Merced River passes directly in front of the Valley's giant monoliths and waterfalls.
I had spent the day testing some new filters that Singh-Ray had sent me and captured a couple of images with the Vari-N-Trio (not a new filter but was for me). This is a variable ND (can set between 4-8 stops ofsolid neutral density) with an LB Warming Polarizer. Tip: when using the Singh-Ray Vari-N-Trio 77mm Thin Filter. The front ring controls the angle of polarization and displays Min. – Max. density scale. The back ring had diamond indicator for adjustment of the variable density. The mounting ring securely threads onto the lens. You adjust the amount of ND desired by holding the front ring in place and turning the back ring. You turn both rotating rings to achieve the desired polarization affect.
Normally I am at Valley View for sunrise or sunset; however, on this early evening, we were under the soft light of the dramatic clouds that were bringing more rain and snow to the high country.
Moreover, I am usually at this location assisting Gary Hart with one of his many Yosemite Workshops, thus I am in instructor mode. On this evening, I was free to just create.
I edged myself out along a fallen pine, so I was able to shoot back up the Merced River with Ribbon Fall (a seasonal fall) and El Capitan.
NOTE: This is a great time to be in the Valley as the waterfalls are booming; however, if you can go during the week and stay away from weekends you will have a better experience with less crowds.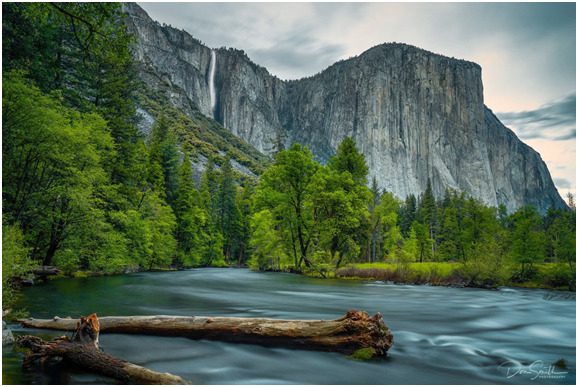 Merced River, El Capitan and Ribbon Fall, Valley View, Yosemite Valley, Yosemite National Park, California.
Sony a7RIII, Sony 24-105mm, f/16, 30 sec., ISO 100, Singh-Ray Vari-N-Trio
What is cool about the Vari-N-Trio is that it allows me to dial in just the right amount of neutral density to achieve a desired shutter speed. With a standard ND, it is just the other way around.
I start by dialing in the minimum amount of ND and then turn both rings to adjust the polarization. According to Singh-Ray, "the color intensifier feature is always working and is not adjustable. Its apparent intensity will vary, depending on the colors and light in your scene."
I couldn't tell you just how many stops I had dialed-in for either of these images, but it was just enough to keep my shutter speed at 30 seconds.
With my full-frame Sony a7RIII, I could shoot as wide as 35mm before detecting any vignetting. To build a filter like this is no easy feat and this is the thinnest Variable ND I have ever worked with.
The ease of using this filter kept my mind where it should have been – on the composition and not on the technical stuff.
Don Smith Photography:      https://www.donsmithphotography.com/